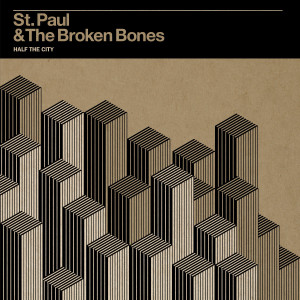 St. Paul & The Broken Bones – Half the City Single Lock SL 003 (2014)
---
Singer Paul Janeway (AKA St. Paul) has a voice a bit like Sam Moore (of Sam & Dave) or maybe even Al Green, and other southern soul singers of the past.  He and his group, The Broken Bones, have a retro soul sound.  This is something the likes of Lee Fields have mastered in recent years.  What this isn't is "neo-soul" like that of Raphael Saadiq, Macy Gray, or Amy Winehouse, who apply a more modern sense of detachment and even cultivate an elitist camaraderie with supposed social misfits set aginst old fashioned arrangements and instrumentation, or the more progressive types who have tried to rethink some of the foundations of soul music and flirt with hip-hop elements, like Erykah Badu, D'Angelo and Lauryn Hill.  If the band's web site press release is to be believed, Janeway grew up steeped in gospel music, not soul, rock and other secular music.  This would, in theory, position him in much the same place at the first generation soul singers, who drew from gospel more than anything else.  But Janeway also cites the showmanship of Tom Waits and Nick Cave & The Bad Seeds.  A grim, gothic edge like those secular rock music influences might be detected more in the guitar and drums than the vocals on Half the City.  But those reference points also hint at the likely audience for St. Paul & The Broken Bones.  This is music mostly for urban, affluent and educated people; a mostly white audience.  The retro stylings are for people with the time to reconsider the past, finding that the sophisticated edginess of old soul music gives voice to what is is relevant to their own contemporary experiences.  The pose a question of what authenticity means today.
The opener "I'm Torn Up" is a slow burn torch song with a horn section playing something not unlike Terence Trent D'Arby's mid-1990s UK hit "Holding on to You."  D'Arby may not seem like the most "authentic" soul music reference point, even if he did make some convincingly good music in his day, but there are some similarities in the horn charts.
There is punchy guitar on the title track "Half the City."  A little guitar distortion shows up at the very end of "Dixie Rothko."  These are just elements of the music, juxtaposed to create a hint of more contemporary relevance.
Half The City keeps ahead of any claims of monotony.  There is a nice balance between more up-tempo numbers, and slower ballads.  And there is Janeway's voice.  He's a surprisingly good soul singer.  His vocal tone is just a bit sour, in a slightly higher register than some of the gruff and gravelly southern soul singers of the past–Sam Moore is definitely the closest comparison.  Janeway tries to shred his vocal chords at times, and while it occasionally seems like he needs a little more momentum to really do it, the mere process of trying is enough for the performances to succeed.
Retro music can sometimes be hollow.  As an approximation of something else, it can lack immediacy and vitality.  Not so with Half the City.  This is music that might adopt the styles of the past, but it mostly cruises by with a lot of energy, retaining a looseness that sidesteps the problems of stifling perfectionism.  Along with Lee Fields' Faithful Man (2012), this is probably one of the most durable retro-soul albums of recent years.