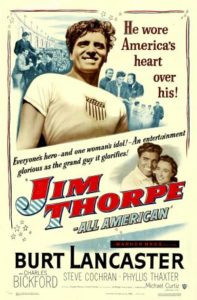 Jim Thorpe -All American (1951)
Warner Bros.
Director: Michael Curtiz
Main Cast: Burt Lancaster, Charles Bickford, Jim Thorpe
---
On the one hand, this film admirably portrays the life of a native american.  On the other hand, it is highly problematic.  There are some decent acting performances, but the score is tedious Hollywood pap.  The script is the biggest problem.  First of all, it is not very historically accurate, sacrificing facts to develop melodramatic plot points.  But the worst thing about it is that the story is designed to emphasize personal failings to diminish the nagging problem of racism.  Now, the film does address racism.  But it is brought up only as a "strawman" to be knocked down in favor of a formulaic personal struggle narrative arc.  It presents Thorpe's life as one of him being too emotionally weak to succeed (in the face of racism, personal tragedies).  To draw an analogy, this is premised on the Louis Armstrong model — a great individual can overcome all institutional and social obstacles (racism) just by being personally talented enough in ways that are non-threatening to social power structures. The real-life Jim Thorpe was subject to a level of discrimination well beyond anything depicted in the film, and it would have been much better if it addressed that (and had a better score).