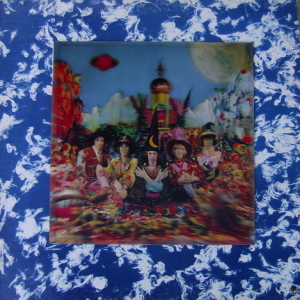 The Rolling Stones – Their Satanic Majesties Request Decca TXS 103 (1967)
---
The Rolling Stones made one out-and-out psychedelic album. It was Satanic Majesties. The record is a non-stop creative journey. While perhaps the most idealistic Stones album, Satanic Majesties also has a gritty, cynical realism just under the surface. Somehow this lends power to the dreamy psychedelia. It makes the music more legitimate. The uplifting qualities aren't escapist.
"She's A Rainbow" is such a wonderful song. It opens with an electronic and found sound segment before leading into sweet piano melody. John Paul Jones (future Led Zeppelin) provided string arrangements. While there is a lot of effort to organize the music, this is still more instinctual than perfectionist. It feels so natural. Even the eeriness seems to belong where it is. The array of instruments used, from horns to a xylophone, make songs like "Sing This All Together" vibrant. Each little sound contributes something unique.
Two more of the very best songs are "2000 Man" and "2000 Light Years from Home." The disillusionment and desire of "2000 Man" make quite a potion. The acoustic guitar seems to merge with the sitar. I sometimes think it is a song about a homosexual in a heterosexual marriage, but I see that as only one of many interpretations. It also is about modern alienation and the desire to cure intractable loneliness. The spooky "2000 Light Years from Home" has a Moog synthesizer slinking along a rather hip rhythm.
"Sing This All Together (See What Happens)" tends to get a critical thrashing, but this is unfair. This post-modern sound collage went down before Captain Beefheart, Funkadelic, Miles Davis or just about anyone else in rock, pop or jazz dared actually try such a thing–though The Mothers of Invention did some similar things around the same time.
"Citadel" is a rocking song about New York City. Jagger throws in some references to some locals including Candy Darling (also the subject of The Velvet Underground's "Candy Says").
"Gomper" and "In Another Land" tend to wander a bit, though they still are for the most part good songs if taken on their own terms.
People tend to dismiss this album as a failed attempt to match The Beatles' Sergeant Pepper's Lonely Hearts Club Band.  I have never been convinced Sergeant Pepper's is so great an album, even if it has a few great songs.  But more to the point, this album is more like Pink Floyd's The Piper at the Gates of Dawn than Sergeant Pepper's anyway.  In any event, Satanic Majesties is a wildly unique, modern and enjoyable album–not just among Stones albums.  I start listening to it to try to entertain myself but then I always go further and open my mind to new ways of hearing and thinking.