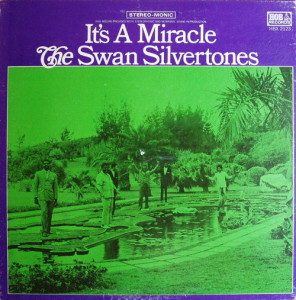 The Swan Silvertones – It's a Miracle HOB HBX-2123 (1970)
---
The sound of the The Swan Silvertones continued to change with It's a Miracle.  Longtime member Paul Owens had left the group, and that represented a major loss.  Owens was a truly great gospel singer, and a real innovator — being responsible for introducing elements of modern vocal jazz into the vocabulary of gospel singing.  Carl Davis, a lead singer who typically imitated departed group founder Claude Jeter, seems to also have quit the group.  This left Louis Johnson as the only great singer left, and left almost all the lead vocal duties to him.
Nonetheless, the group's long-serving manager and arranger John Myles makes this album a success.  He wrote all the songs on side one, and arranged everything on side two.  Like Duke Ellington, he could match the group's material to the individual strengths of the performers.  So he turns a song like the opener "I Can Dream" into a magnificent vehicle for Louis Johnson's vocals, cradling the nostalgic lyrics in a loping beat perfect for Johnson's sing/speak crooning.  Setting the pattern for the group's next few albums, there is a mix of up-tempo numbers like "What Ya Gonna Do" and mellower fare, giving time to all the facets of Johnson's vocal abilities.
In the final analysis, It's a Miracle is among the group's best albums for HOB Records.  It's not quite as good as Great Camp Meeting or even Walk With Me Lord, but is very comparable to Only Believe.  This might not match the very best of the group's recordings, but it's among their most successful and even-handed album-length statements conceived in a rock/soul style.
As an aside, by my count this was The Swan Silvertones' ninth or tenth full-length album, but the first to feature a photograph of the band on the album jacket.  The only other photos of the group members were compilations that tended to recycle two promotional photos from the 1950s (sometimes even slapped on recordings made by completely different lineups than pictured).
[This album was, confusingly, reissued on CD in its entirety, with song titles changed and two bonus tracks added, as The Very Best of The Swan Silvertones: Do You Believe, though the CD reissue seems to have remixed or remastered the sound in such a way that the original vinyl sounds quite different.]