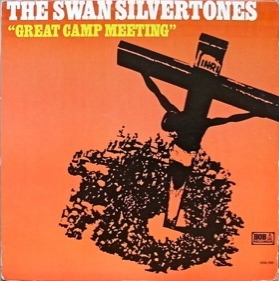 The Swan Silvertones – Great Camp Meeting HOB HOB290 (1968)
---
The Swan Silvertones' over five decade existence can be broken down into about four periods.  The first period is their early period from formation in 1938 through 1951, roughly encompassing their time recording for King Records, when they were searching to find their style beyond "jubilee" gospel.  During this time they didn't really have a sympathetic record label to record them, so today we have to just guess what they would have sounded like live.  Some surviving notes suggest that the band was holding some of their better material and arrangements in reserve until they found a more willing label to record them.  Nonetheless, they had some mild success in this early period, but probably not a tremendous amount on a national scale.  The second period is 1951 through the later years of the 1950s.  I consider this the classic period of the Swans, when they firmly established their own unique style of "hard gospel".  They were recording for Specialty Records.  While Specialty gave them essentially complete creative control in picking arrangements and songs, it seems Specialty didn't do that much for the group in terms of promoting them and releasing in a timely fashion what had been recorded.  During this time they recorded some all-time greats.  While I think the group was gaining a reputation, they probably weren't getting as much exposure through their recordings as they deserved.  The third period, and the one that probably brought the group the most commercial success, was when they moved to Vee-Jay records at the end of the 1950s.  On Vee-Jay, they added instrumental backing for more or less the first time — previous recordings were mostly a cappella and generally included only minimal percussion accompaniment.  They also were releasing full-length LPs of new material for the first time.  In this phase, the group was expanding upon the stylistic ideas they had previously developed.  Things were going very well, but then Vee-Jay closed down in 1965.  They switched over to HOB records, but the group's long-time leader Rev. Claude Jeter left in 1966.  The group continued though.  They recorded more for HOB.  Starting in 1968, HOB albums were distributed by Scepter Records, but Scepter shut down in 1976 at which time the group switched over to record material for Savoy Records, with longtime manager John Myles departing.  In these later years, particularly on Savoy when Louis Johnson took over leadership of the group, they had what has been described as a "seventies gospel" style.  This post-Vee-Jay period is the fourth and final period of The Swans' existence — though the Savoy years could perhaps be viewed separate from the HOB years.  Finding albums from this last period can be incredibly difficult, as even discographies covering this period can be hard to find, much less copies of the LPs, most of which have never been re-released on CD in full as of this writing.  If anything, the band kept moving in a direction that bore little connection to any of their earlier periods.  In some respects, this is the least rewarding period, and that probably goes a long way towards explaining the lack of reissues and willful amnesia among fans and critics. I don't want to make this period sound like it's consistently terrible, because these recordings were still well-crafted, just not always very stylistically rich or ambitious.  Claude Jeter supposedly came back a few times through the 1980s and early 1990s for live appearances.
That brings me to Great Camp Meeting.  This was released on HOB records originally, and did manage to earn a CD reissue.  The album represents the peak of the increasingly rock and soul oriented sound the group first suggested with Blessed Assurance and continued into the 1970s with generally diminishing results.  When Rev. Claude Jeter left the group, he was replaced by essentially an imitator in new lead singer Carl Davis.  It seems like Davis is present on material here like "Little Wooden Church," where his vocal similarity to Jeter is striking.  However, it's clear that the group is under new leadership (with John Myles in control).  A lot of the material here also seems less elaborate than Swan Silvertones recordings from just a few years earlier.  The best stuff on the album tends to be the songs with simple, up-tempo instrumentals and Louis Johnson clearly taking the lead on vocals, with his voice swinging back and forth between gravelly shouting and smoother crooning.  "Can't Do Nothing" is one of those, with one of the most grooving, driving beats you'll find anywhere in The Swans' catalog.  It's probably my favorite cut from the post-Jeter era.  The version of "This Little Light of Mine" here is also really propulsive, one of the best versions of the songs I've yet heard, with an intense beat that shows clear signs that soul music was a vital force in popular music at the time.  Also really good here are a few of the songs like "It's Good to Be Saved" with Johnson slowly sermonizing over driving backing harmonies, and "Stand Up and Testify" with Paul Owens delivering some slow, jazzed-out lead vocals.
The kind of offhand, inviting, casual feel of so much of this stuff has really hooked me.  There is plenty of good stuff here, and what makes it good is a world apart from what made earlier Swan Silvertones albums good.  This may be my favorite Swan Silvertones album of the post-Vee-Jay years, and it might just be one of the group's best albums period.  It feels just a little rough around the edges, but that's exactly what I like about it.