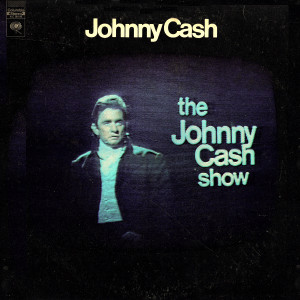 Johnny Cash – The Johnny Cash Show Columbia KC 30100 (1970)
---
Thanks to the mega-success of two live albums recorded in different prisons at the tail end of the 1960s (At Folsom Prison and At San Quentin), Johnny Cash was offered his own TV show on the ABC network that premiered in June of 1969.  It was filmed at the Ryman Auditorium in Nashville, the former home of the Grand Ole Opry.  Cash had been banned from the Opry a few years earlier after he smashed out all the stage lights with a microphone stand in a drug-fueled fit.  But now he was back as the main attraction.  The show marked the absolute pinnacle of Cash's popularity.  Broadcast to millions of homes across the country (and rebroadcast internationally), he went from being a star to a cultural icon.  It was a whole new level.  The program was a musical variety show, sort of a country music counterpart to The Lawrence Welk Show.  A lot of big stars appeared on the show over its run.  A sampling of recordings from guests — and Cash — was posthumously featured on The Best of The Johnny Cash TV Show: 1969-1971.  There were country stars, but also rock, folk and comedy performances.  There were regular appearances by familiar supporting musicians like The Carter Family, The Statler Brothers and Carl Perkins.  An orchestra was regularly featured too.
Cash met Kris Kristofferson on the set.  Kristofferson was working as a janitor at the auditorium at the time, yet to really make it as a musician.  Cash performed Kristofferson's great "Sunday Morning Coming Down" and made it both a hit and the definitive reading.  It's the clear highlight here.
Cash did a regular "Ride This Train" segment on the show, named after Cash's 1960 concept album, that featured medleys and stories about Americana themes.  It was a part of the show that Cash felt strongly about, but the Network tried to cut it to please advertisers.  Cash did more religious content over time, and even went so far as to make announcements about his christian faith.
This album, The Johnny Cash Show, only scratches the surface of what was on the TV show.  Only a small fraction of the series has been released on album.  It's a shame because there were actually many great and interesting performances on the show, worthy of attention.  But what is here is good stuff.  "Sunday Morning Coming down" is definitely the highlight.  Yet every last track is enjoyable.  There is a kind of smoothing over of Cash's routine.  Don't expect his trademark rock-inflected boom-chicka-boom rhythm or any joking around.  This is clearly "professional" music aimed at as wide an audience as possible.  Though it doesn't really lose much, if anything, in cleaning and polishing every facet.  But it is a different side of Cash's music than just about any of his other albums — even if some video releases into the 1980s have more similarities.
The show ended in March of 1971.  Cash later wrote that he was exhausted from the schedule and felt he had done everything he could with it when it ended.  But it was the network's decision more than anything, as rural-focused programs were dropped in favor of more urban programming, not to mention Cash's refusal to cave-in to advertiser demands.  The show did give Cash tremendous exposure, which enabled him to tour incessantly in the following years.  His touring act picked up much of the content and form of the TV show, resembling a sort of traveling Vegas show.
Ironically, while "The Johnny Cash Show" was one of the major successes of his career, and the entire reason many fans knew him in the first place, it became a sort of forgotten aspect of Cash's legacy for younger listeners.  This album going out of print probably has something to do with that.  While it might not be everyone's favorite side of his music, it deserves more attention than it has tended to receive.