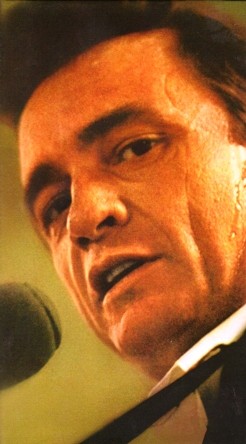 Johnny Cash – At Folsom Prison (Legacy Edition) Legacy 88697 32742 2 (2008)
---
The "Legacy Edition" of Johnny Cash's iconic At Folsom Prison (1968) presents the two (!) complete concerts used as the basis for the original album together with a documentary on DVD and expanded liner notes.
Michael Streissguth, author of Johnny Cash at Folsom Prison: The Making of a Masterpiece, provided the liner notes and coordinated the documentary.  He does a great job digging up valuable information about Cash, his music, the recording of this album, and the people who made it happen–including the inmates.  Bonus DVDs have become a familiar way for record labels to inflate the cost of an album, but often provide only grainy home-video quality concert footage or what seems like the security tape footage from studio recording sessions.  They are so often not worth it!  But this DVD is an exception.  Not only is there live footage from the shows that were recorded for the album, but there are interviews with former Cash associates, audience members, and surviving family members reflecting on contributions of the deceased.  One inmate interviewed, Millard Dedmon, offers some pretty amazing insights on what it meant to be locked up in prison in 1960s America, and how the inmates welcomed Cash or anybody who took enough interest in them to make an appearance.
Many perhaps assume that the original At Folsom Prison album is the complete concert Johnny Cash played January 13, 1968.  That's wrong for many reasons.  There were two morning shows that day.  Two were thought needed to ensure that enough suitable takes would be captured.  The recording was a project Cash had wanted to do for a while.  He had played prison concerts a number of times previous, and knew the setting would make for a great recording.  Knowing that a recording was being made, there were rehearsals of course.  During rehearsals, he learned a song by then-current Folsom inmate Glen Sherley, "Greystone Chapel," passed along on a demo tape.  In the second show, they play that song multiple times.  But surprisingly, almost all of the original album was culled from the first show, with the exception of "I Got Stripes," "Give My Love to Rose," and some between-song prison environmental ambiance. Cash of course plays one of his most famous songs: "Folsom Prison Blues," which actually lifted the melody and lyrical structure of Gordon Jenkins' "Crescent City Blues," with the famous line "I shot a man in Reno/just to watch him die" adapted from Jimmie Rodgers' "Blue Yodel (T for Texas)," "I'm gonna shoot poor Thelma/just to see her jump and fall."
Some of the little "flubs" in the concert recording are actually planned gags, like when June Carter (she married Cash less than two months later) jokes, "I'm talkin' with my mouth!"  She says the same thing in both shows, and it seems a lot less charming the second time you hear it.  Cash's question, "Is this water?" and quip about drinking some that had "run off" something is also the same joke he delivered in July of 1964 at the Newport Folk Festival.  He also manages to forget the words to songs at times and generally miss the mark on his vocals.  But that's more noticeable in the second show.  It's possible now to wonder, though, whether he planned to do it.
The way the original album came together seems all the more impressive after hearing the "Legacy Edition."  The original trimmed out the weaker performances and kept a remarkably good flow, more so than either of the original shows.  This expanded edition actually takes away some of the mystique.  Still, "The Legend of John Henry's Hammer" is nice to have (though it was previously added as a bonus track to reissue editions starting with 1999's At Folsom Prison).
As an aside, it's worth noting that prison populations were quite different in the late 1960s than at this writing over four decades later.  Since then, prison populations have soared 600%, and there was a distinctly racist element to the so-called "war on drugs" started by Ronald Reagan in the 1980s that put mostly (poor) black men in prison for reasons other than criminality (read sociologist Loïc Wacquant for more detail).  In other words, the crowd in Folsom that January day in 1968 was mostly more serious criminals, like bank robbers (Glen Sherley), armed robbers, kidnappers and rapists (Millard Dedmon), and probably worse.  Cash still empathized with the audience.  He made efforts to advocate for prison reform.  He had lobbied along with Reagan and Billy Graham to get Glen Sherley paroled, and then took on Sherley into his troupe for a while.  Although strangely some people write Cash off as a typical country redneck, or maybe a typical rural populist, he actually wasn't much like any of those things.  Although there was somewhat of a sneer whenever mixing art and politics came up, Cash did do so repeatedly.  Most of Cash's brand of "activism" was just about the notion that everyone deserves a fair shake and should be treated with dignity–even convicts.  That of course put him at odds with the American political establishment built upon a very different foundation, notwithstanding some pretensions to the contrary.  So he couldn't help but be "political" in bristling with the way things were.  But he also wasn't just another rural populist, with views that chafed against the situation for ordinary folks in urban centers.  Cash often sang about the industrialized North, and someone writing in the Village Voice years ago hypothesized that Cash was a little more "liberal" than your average country star because he grew up on a New Deal farm in Dyess, Arkansas.  Cash called the town "a socialistic setup" in his first autobiography.  It also may have been relevant to this album's popular success that it came out in 1968, a pivotal year in history, when progressive and liberal social norms made breakthroughs into wider acceptance.  None of that matters a whole lot to Cash's own attitudes — though he was, in a sense, positioning himself as the exception to rural ambivalence and hostility to the New Deal.  What did matter was that despite how big a star he became, Cash could always pull off a country-simple charm that stuck with him just about his whole life.  For At Folsom Prison, that charm was paired with a raw energy and palpable sense of connection with the audience that makes this a one-of-a-kind document.