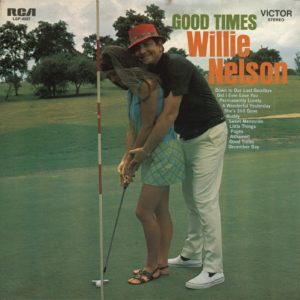 Willie Nelson – Good Times RCA Victor LSP-4057 (1968)
---
Even if Good Times isn't Willie's best early (pre-fame) album, an argument can be made that it is his most important. All his prior albums on the RCA Victor label in the 1960s looked back to styles that had already been established by other artists. Willie just dropped in his own songs and vocals. Texas in My Soul — amazingly, also released in 1968 — is a Nashville take on western swing and honky tonk that was more popular a decade or two earlier, with really stiff vocals and feigned gravitas. Willie appeared on these early album covers wearing a suit, or dressed as a country bumpkin. He was acceding to industry demands and fitting himself into the mold of what the Nashville music machine deemed salable.  Suddenly, though, Willie sounded more relaxed and…modern. This album's cover features a photo of Nelson in casual attire on a golf course green (he actually really liked golf) with his arms wrapped around some young woman helping her putt, a goofy grin on his face.  The photo makes a number of allusions.  For one, the presence of the woman and Willie's grin suggest sexism and patriarchy.  Willie's clothes and association with golf suggest middle class economic security.  And his grin and the title lettering stating "Good Times" suggest a shift away from they way he was previously marketed as either a "serious" songwriter or an "authentic" country hick — or both, as kind of an anthropological cultural translator or "cross-over" envoy — instead hinting at a kind of sarcastic and ironic distance.  Many of these things seem to stand in conflict with one another.  But most importantly there were now multiple plausible meanings and messages.  These presented a sort of challenge.  How would these conflicts be resolved?
This is an early appearance of the style that would develop into the likes of The Words Don't Fit the Picture. As another reviewer put it, "Nothing here screams chart topping hit and it must have been nightmare for recording company who wanted to sell this, on the other hand music actually stands the test of time quite nicely and for once it doesn't sound dated at all but actually timeless. " His original songs, some co-written with his then-wife Shirley, make extensive use of irony. He had used irony before ("Hello Walls," "Undo the Right"), but now this was a more melancholy and existential irony. On the title track, "Good Times," he is describing sarcastically the suburban, middle-class "American Dream" (and the Viet Nam War) alongside innocent childhood activities.  This was the sort of stuff much more prevalent in "rock" and rock-influenced pop music of the day. "December Day" even deploys jazzy chords that use dissonance that was (and still is) quite unusual for country music.  These descriptions only fit side one of the album though. On side two, Willie is back within the confines of the "Nashville Sound," with plenty of string orchestration, a little pedal steel guitar, coy backing vocal choruses, and the other usual Nashville trappings. Now, the "typical Nashville" stuff on side two is not bad, and actually is better than many of Willie's other forays into that territory.  But there is a sense of retreat. It is very hard to listen to this now and not lament how much better this album would have been if the whole thing was done in the pared-back acoustic style of side one.
When Willie really hit it big in the mid-1970s, he had a reputation for bringing together rock and country audiences.  The fact that he was interested in the music of each of those disparate demographics first made an appearance on Good Times.  He hadn't quite figured out how to balance his appeal to both of those frequently antagonistic listening audiences yet, but this was kind of a trial run.  He would continue to tinker and experiment in this direction in to the early 1970s, though as he remained within the Nashville system there was really no way to advance Willie's line of thinking far enough.  It was when he went to New York and teamed up with rock/soul/R&B people that everything finally fell into place on record.