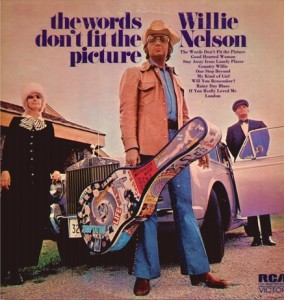 Willie Nelson – The Words Don't Fit the Picture RCA Victor LSP-4653 (1972)
---
Willie Nelson languished in near obscurity as a solo artist through the 1960s and early 1970s, despite recognition penning a number of hits for others.  In his early days he conformed to the whims of his producers, with a typical "Nashville" sound.  As time went on, he — like a lot of Motown stars like Marvin Gaye and Stevie Wonder — sought to assert himself more in the recording process.  His vocals changed.  Rather than holding notes for a long time and adding a lot of vibrato like a pop crooner, he sang ahead of the beat more forcefully and sang with more clipped, staccato phrasing.  The backing vocals, string backing, and other Nashville trappings fell by the wayside too, and Willie's accomplished guitar playing featured more prominently — characterized by his trademark pauses interrupted by staccato runs on his iconic converted classical acoustic guitar.
The Words Don't Fit the Picture is something of a forgotten item in the Nelson catalog — AMG gives it only a one-sentence review, RYM has no reviews and only a few ratings and it's not even mentioned in Graeme Thomson's biography Willie Nelson: The Outlaw.  It was released around the time Nelson moved to the Austin, Texas area and hired a new cutthroat manager from the rock world, before his big break with Shotgun Willie.  It has elements of the Nashville sound, but also plenty of moments that foreshadow the ways Nelson would breakthrough to superstardom in a few years.  He wrote or co-wrote everything here.  Though it would be hard to call any of these standouts, there's not a bad tune to be found.  And this set is nothing if not eclectic.  Nelson's wide interests in jazz, western swing, traditional pop, soul, etc. subtly make their presence felt.  In essence, Willie takes the Nashville sound as far out as it can go, right to its furthest boundaries.  Take "London," for instance, which sounds like a countrified version of a beatnik monologue off a Tom Waits album.
This may be a transitional effort, but it wonderfully captures a lot of strengths of the different elements at play.  It also shows that Nelson was certainly a professional, delivering crisp songs in an assured manner, even when they have "typical Nashville" written all over them.  Listeners who can forget about where this stands in relation to other things Nelson has done may find that this is simply a damn fine country album.