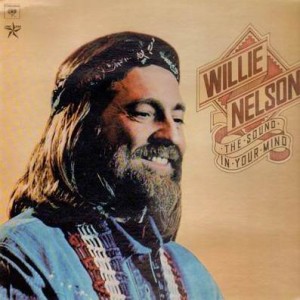 Willie Nelson – The Sound in Your Mind Columbia PC-34092 (1976)
---
Willie's proper follow-up to his smash success Red Headed Stranger is another winner.  He sounds perfectly at ease with himself, ready to let this album unfold slowly.  Martin Scorsese once recounted his career in the 1970s and 80s by noting that no one had time for a personal cinema in the 80s.  What was true for film also held true for music.  The intimate and frequently sad, downer themes of a lot of 70s music largely disappeared in the 80s.  That's one reason The Sound in Your Mind stands out, because this sort of album wasn't being made anymore a few years later.  That's a damn shame too.  Because Willie does a lot of intimate songs here that touch on many poignant, lonely sentiments in a warm and comfortable way that found no space in public consciousness in the coming Thatcher-Reagan era.
One of Willie Nelson's best qualities was the eclectic musical interest he had, and the ways he could bring his varied interests to bear on his records with a light and never overbearing touch.  This collection of old standards and new performances of some of his own best-known (but old) songwriting is presented with spare and unobtrusive accompaniment.  There is a late-night aura over everything.  A small but rich assortment of pedal steel, piano and prominent bass give help keep this from settling into too much of a same-y sounding rut (what The Troublemaker threatened to succumb to).
If any one thing stands out most about The Sound in Your Mind it has to be Nelson's vocals.  His vocal delivery evolved over time.  By the mid-70s he reached his peak.  It might be fair to say this album was his very peak as a vocalist.  That voice, with its natural Texas twang and ahead of the beat—and sometimes behind—attack, is an irrevocable force, as immediately recognizable as that of any singer of the 20th century.  By this point he used vibrato much more willingly than a decade prior.  This album is loaded with great songs and performances, like "I'd Have to Be Crazy," "That Lucky Old Sun (Just Rolls Around Heaven All Day)," "A Penny for Your Thoughts," "If You've Got the Money (I've Got the Time)," and "The Healing Hands of Time."  This is another great one from a stretch where it seemed like Willie couldn't go wrong.