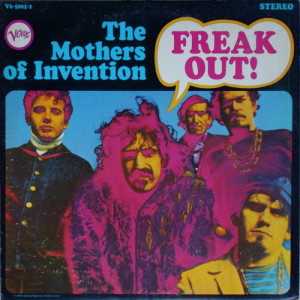 The Mothers of Invention – Freak Out! Verve V6-5005-2 (1966)
---
There is something really curious about Mothers of Invention records.  They rely on a kind of double irony.  That is to say that there are songs like "Go Cry on Somebody Else's Shoulder" and "Any Way the Wind Blows" that look back to 1950s doo-wop and pop/rock with a dose of sarcasm, or "Wowie Zowie" with a melody near the end cribbed from The 4 Seasons' 1962 sunshine pop hit "Sherry," but the sarcasm is itself ironic and sarcastic.  It's like this: given the wave of counterculture that was underway in the late 1960s (a year after the release of Freak Out! was the "summer of love"), the only way for the Mothers to hold fast to the pre-countercultural norms was to do those things ironically.  So when someone hears a song like "Go Cry on Somebody Else's Shoulder" the listener hears sarcastic, mocking vocals, she is really supposed to like the song and not sarcastically dismiss it.  In the liner notes there is a comment about "Any Way the Wind Blows" that says, "It is included in this collection because, in a nutshell, kids, it is…how shall I say it?…it is intellectually and emotionally accessible for you.  Hah!  Maybe it is even right down your alley!"  But why put a song like this on the album at all — or write it in the first place — if it is only for squares?  And why go on to do Cruising With Reuben & The Jets, an entire album of doo-wop?  Again, this is why the real intent is to like the song for its retro qualities.  Really, what is wrong with that though?  Probably the best career move bandleader Frank Zappa ever made was to sign the Philadelphia doo-wop group The Persuasions to his record label!  In some ways, the doo-wop tracks are some of the very best cuts on the entire double album.

One of the most successful rockers is "Trouble Every Day."  This song, commenting on the Watts Riots and race relations generally, turns out to have less of an Abbie Hoffman "militant activist" vibe than a Hubert H. Humphrey "compassionate liberal" vibe!
All this positions The Mothers not as a faithful part of the counter-culture, but as part of the counter-counterculture. The band's labelmates (sometimes appearing together on tour) The Velvet Underground represented a real musical revolution.  But Zappa would mock them on stage.  Zappa, and by extension The Mothers, were basically crypto-conservatives (of the liberal-libertarian-conservative strain).  If that seems like an odd characterization, it is in the sense of adapting to and blunting revolutionary impulses to avoid a real revolution — think Igor Stravinsky instead of Arnold Schönberg or The New Deal instead of the Bolsheviks.
Challenging that view, however, are songs like "I Ain't Got No Heart," "How Could I Be Such a Fool," "You Didn't Try to Call Me," and "I'm Not Satisfied" that appropriate easy listening, marching band and plaid suit old boys club horn section atmospherics, and place them alongside rock guitar riffs.  According to one source (not verifiable by any other online source), Zappa attended musical training by Pierre Boulez and Karlheinz Stockhausen, and the use of wildly disparate musical styles was an approach that showed up in the work of many such students — Zappa's fellow student Rogério Duprat from Brazil employed that effect with more startling originality and subversive power on records for Gilberto Gil and others in the tropicália movement.  Zappa's use of this technique is the most rudimentary.  It seeks to provide a contrast, but never really succeeds in mocking the underlying premises of the horn section music.  It just shows up like a fart joke (and those kinds of jokes were mainstays of The Mothers' repertoire).  The lengthy closer "The Return of the Son of Monster Magnet" was an unfinished track that Zappa and the band did not want included.  The the abstractions of "Help, I'm a Rock (Suite in Three Movements)," "It's Can't Happen Here," and "Who Are the Brain Police?" add other layers and music elements to the mix — only the first part of "Help I'm a Rock" really succeeds though.
This album is decent.  It is worth giving a listen every once and while, but doesn't quite come together enough to likely be a perennial favorite.  As my friend Brian put it, "Freak Out! is a more important release than it is necessarily a great album."  The Mothers did better with We're Only In It for the Money.  And other artists later improved on many of the ideas here: The Grateful Dead on Anthem of the Sun and CAN on Tago Mago with a hybrid of rock and modern classical; Brazilian tropicalismo with juxtaposition of seemingly opposing elements; and The Red Krayola with absurdist humor on the likes of God Bless The Red Krayola and All Who Sail With It.  But Freak Out! still deserves credit for attempting a unique blend of countercultural rock, retro pop, and avant garde modern classical musics.  It clearly tries to normalize the weirder elements — to prove that the weird stuff isn't really weird at all.  Yet it was making these attempts and making its experiments sooner than most.  The floodgates of truly revolutionary music would only really open in 1967 and 68.  Legendary producer Tom Wilson deserves special credit for the album's best elements.  He summoned a lot of resources to help make an album of base humor with the finest studio recording techniques and equipment of the day.