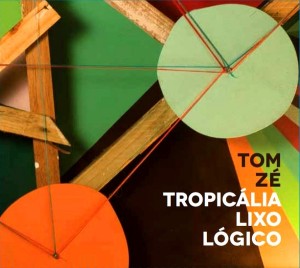 Tom Zé – Tropicália lixo lógico Passarinho PASSCD0001 (2012)
---
The late sociologist Pierre Bourdieu said, "I believe that if the sociology I propose differs in any significant way from the other sociologies of the past and of the present, it is above all in that it continually turns back onto itself the weapons it produces."  A similarly reflexive position is taken in certain psychoanalytic/philosophical discourses (dealing with "permanent self-questioning").  Tom Zé's self-released album Tropicália lixo lógico (crude English translation: "Tropicália Logical Waste") kind of follows a similar approach to music.
Zé is a kind of musical analyst (most likely a logical-intuitive introvert, just like cinema's Jean-Luc Godard).  This album draws on Zé's past in the late 1960s Tropicália movement, without being beholden to it.  This is a fairly mellow collection of music, much like his prior studio album Estudando a Bossa: Nordeste Plaza.  He is ironically using bits of popular music, some old, some newer.  What is different here is that unlike recent efforts his appropriations are in a way more crude, less nuanced.  This is kind of the point!  What made Zé's misadventures in Tropicália decades ago so unique is that they dissolved many of the contradictions of straight-up cynicism.  When he appropriated bits of mass culture he didn't do so just to cheaply trade on a kind of guilty-pleasure enjoyment in kitsch but to elevate the appropriation in relation to the content, honoring the sources without becoming beholden to them.  That last part was always the key.  When rudimentary cynics like Frank Zappa do things like this, they tend to prove in the end that they are really beholden to the past and can at most recall it to reinforce its underpinnings (and try to show off in the process).  Zé, on the other hand, robs the past of its coercive force, opening up the future to other possibilities.  He's doing that again here.  But this man is in his late 70s!
Tropicália lixo lógico is an excellently produced album.  Much like Jogos de armar (Faça Você Mesmo), this is as conventional and approachable a production style as you will find anywhere from Zé, while also retaining the man's essential weirdness and edginess.  There are hints toward indie rock, bossa nova, and so forth, with fewer and softer angular rhythms than on his most experimental recordings.  But he still has tricks up his sleeve.  One of his best devices is to cut off many of the songs.  Rather than fade out, or reach some kind of clear resolution, many of the songs are cut off mid-verse and the next song abruptly begins.  Consider this a litmus test.  If something like that sounds absurd to you, perhaps it is time to move along.  If the idea of cutting off the ends of the songs to refuse any sort of resolution sounds kind of interesting, then buckle in for a lifelong fascination with one of Brazil's most fascinating musical figures — this probably won't be your last Zé recording.