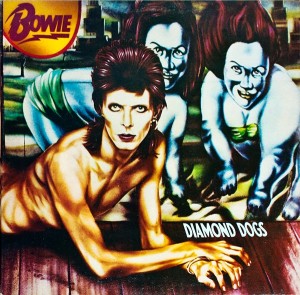 Bowie – Diamond Dogs RCA APL1-0576 (1974)
---
After the glam hard rock of Aladdin Sane and the nostalgic (and poorly-received) Pin Ups, David Bowie returned, somewhat, to the theatrics of The Rise and Fall of Ziggy Stardust and the Spiders From Mars.  Mick Ronson and The Spiders From Mars are gone, but Bowie's own guitar playing is sturdy and effective, if more economical and scrappy.
"Rebel Rebel" is one of Bowie's catchiest guitar riffs.  "Diamond Dogs" is another great one here, with its solid glam beat and gracefully dingy horns.  Of the tracks that aren't on the radio or best-of collections, "Rock 'n' Roll with Me" is perhaps the best, and most instructive.  It (and the soulful "We Are the Dead") points towards Bowie's focus on his singing that would lead to the R&B rave-up title track to Young Americans and the excellent cabaret ballad "Wild Is the Wind" on Station to Station.
There is a concept of sorts behind this album, something about a dystopian future like in George Orwell's Nineteen Eighty-Four (Bowie was denied rights by the author's estate to make a direct adaptation of the novel).  The concept helps the album, not in the direct structure of a cohesive overall story line, but in providing a kernel of inspiration that gets individual songs going.  There is more social commentary here than on perhaps any other Bowie album.
Really, Diamond Dogs is one of Bowie's best.