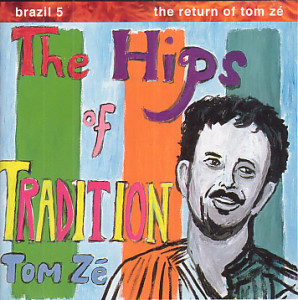 Tom Zé – Brazil 5: The Hips of Tradition: The Return of Tom Zé Luaka Bop 9 45118-2 (1992)
---
After a rediscovery by Talking Heads frontman David Byrne following years drifting into obscurity, Tom Zé signed to Bryne's new label Luaka Bop, and picked up an international recording career.  The Hips of Tradition finds Zé full of ideas, if a little rusty in the studio.  "O pão nosso de cada mês" is basically the template for his entire next album Fabrication Defect: Com defeito de fabricação — those iconic staccato guitar licks (already present on "Mã" from 1975's Estudando o samba and "Pecado, rifa e revista" from Correio da Estação do Brás) are all over that follow-up album.  The groove from the opener "Ogodô, Ano 2000" would reappear on "Chamegá" from Jogos de Armar (Faça Você Mesmo).  His manner of singing intentionally "bad" vocals over sweet bossa nova instrumental accompaniment would return on Estudando a Bossa: Nordeste Plaza.  The main liability with The Hips of Tradition is that most of the middle mass of the album seems undeveloped.  He's experimenting.  And that's great.  But the experiments aren't all successful — yet.  He's still a bit tentative with some of the ideas.
What was kind of new here as compared to Zé's early career was the sheer zaniness.  He did experimentation before.  His older music was also funny and full of cutting sociopolitical commentary too.  But the dramatic, almost lighthearted, flighty, comically endearing way of doing all those things emerged in a new way on this album, more manic than before, when instead a degree of lethargic, pensive seriousness appeared regularly.  This is even reflected in the way his recordings are presented.  Especially in the 1970s, his albums usually featured his image, looking serious, like an intellectual, whereas from the 1990s on he was typically shown jumping, or with crazy looking action shots, and even a title like "Hips of Tradition" implies dancing and movement.  There was more of an emphasis on action and doing without relinquishing a claim to being intelligent.  This was a change partly made possible due to the end of the Brazilian dictatorship (he has said, "at the time of the dictatorship when you wanted no problems you had to appear to be a serious person.").
The Hips of Tradition is a good and worthy entry in Tom Zé's catalog of recordings, though in the coming years he would greatly expand his faculty with studio recording techniques, and also his arsenal of custom, improvised instruments and melodic figures.  All this is to say that this album does not disappoint, yet there are perhaps better entry points for listeners new to Zé's music.