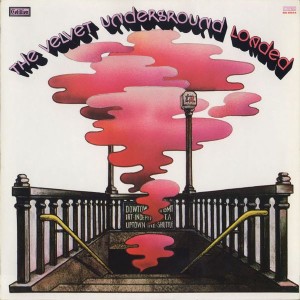 The Velvet Underground – Loaded Cotillion SD 9034 (1970)
---
"Sweet Jane" sums up the unbelievable scope of Loaded. With reverence for all the joys and sorrows of this world, compassion is what rises to the surface.
"Jack is in his corset/Jane is in her vest/ and me, I'm in a rock and roll band."
Whether Jack or Jane is in the corset (seemingly each version transposes the two), the distinction is meaningless.  There are spectators, performers, pawns, poets, lovers, families, hypocrites, philosophers, dreamers, and more.  These simple categories simply don't matter:
and there's some evil mothers/ well, they're gonna tell you everything is just dirt/ you know that, women never really faint/ and that villains always blink their eyes/ and that, you know, children are the only ones that blush/ or that life is just to die/ but anyone that ever had a heart/ oh, they wouldn't turn around and break it/ and anyone that's every played a part/ they wouldn't turn around and hate it
The usual question and answer format of the Velvets' earlier albums isn't present on Loaded, but you can use your imagination.  The music is still there in one place or another.  People get by — that in itself can be glorious.  Maybe, as Arthur Rimbaud so eloquently stated, "Life is the farce all must perform." The Velvets, with infinite compassion, simply take pleasure in the grand scheme of it all.  The greatest rock band faced imminent destruction while recording Loaded.  They certainly proved their conviction at the least.
Despite Atlantic/Cotillion Records' every attempt to ruin Loaded, it still rocks.  Had the record company continued allowing full creative control, this album could have been one of those "top ten all-time". Credit is due the Ahmet Ertegun for recognizing the group's talents. Atlantic did initially consider signing the Velvets a prestigious "score," but those feelings quickly changed.  Loaded took forever to complete as the Velvet Underground disintegrated as a band. Atlantic switched producers and rescinded much artistic control. This band could make the most innovative experimental rock if they chose to but instead, given the circumstances, made a great pop album.
The album loaded with possible hits. Yet, the original release had bizarre mixes that re-ordered and shortened songs ("New Age," "Rock and Roll" and the unforgivable disservice done to "Sweet Jane," otherwise one of the greatest modern rock songs ever).  There is no possible explanation for this.  When re-released on the "Fully Loaded Edition" reissue, the original mixes were restored.  Though the song order was never corrected, all the great songs are still there, somewhere.  The recordings of a few, like "Head Held High" still show an unreal studio awareness, with subtle textures and precise timing.  The final product is imperfect, but that gives Loaded a kind of underdog status in the Velvet's catalog.
Lou Reed was on a fucking roll for Loaded.  Many of his most memorable lyrics are nicely contained on this one disc.  The largely autobiographical "Rock and Roll" is one of the great proclamations of the glory of rock music.  "Who Loves the Sun" starts the album off with a spat of disillusionment and sweet isolation.  Unlike the sonic attack of the Velvet's first two albums, Loaded establishes them as pop song virtuosos the equals of other rock bands like The Beatles or The Rolling Stones.   "Lonesome Cowboy Bill," about William S. Burroughs, is careening fun.  The Velvets had traditionally been a dark, bleak band, but only by choice.  Loaded conclusively proves their range included rock rebelliousness and pop sensibility as well, simultaneously.  It's easy to yap about all the classic rock and roll songs found on this album, but it's no use to state the obvious.
Sterling Morrison's best guitar work is on White Light/ White Heat.  On Loaded, his influence is sparse but powerful.  Morrison always added humor to the Velvets.  He was an influence of humanity in the group.  Despite his crumbling faith in the group he turns in a few fine moments.  Doug Yule played some of the lead guitar parts.  Sterling adds the flavor to Loaded that makes it so fun.
Tension comes in simple, easy-to-grasp doses.  Doug Yule's vocals falter at times (weakening the otherwise great tune "I Found A Reason"), but are generally strong ("Who Loves the Sun").  Moe Tucker does not play drums due to pregnancy (it's hard to reach drums around a baby). The obstacles were apparent. The way the Velvets forge ahead anyway is the real story behind Loaded.
Every force runs against the Velvets and they still prevail.  Thanks largely to Lou Reed's songwriting genius as a profound lyricist; worldly computations and amputations (to use Reed's vocabulary) do little to dampen the spirit of this great music. The Velvets keep their "Head Held High."
Wouldn't you be a bit disillusioned if you were the greatest rock band, but no one cared?  Loaded delivers everything a great rock album must:  catchy hooks, rebellious attitudes, and yes, it makes you want to jump up and play some rock and roll yourself.  Glory is attainable.  After hearing this album, you want to achieve it too.  You can; somehow it will all work out.
When Loaded failed to be the commercial hit it should have been and old frustrations lingered, the Velvets essentially broke up, continuing on only as essentially a new band with the old name.  More than a decade later, the music world retroactively identified the Velvet Underground as the pinnacle of rock music.  Time proves the Velvet Underground were always right, in a world that often wasn't.  Like Arthur Rimbaud, respect came after their lifetime.  A reunion tour was short-lived.  Lou Reed's ego destroyed the group more than once.  Fortunately, four studio records survived what the band's members couldn't.
I would say the original version of Loaded suffers from some ridiculous edits and remixes at the hands of the record label, but the Fully Loaded Edition and the Peel Slowly and See box nicely fix those problems.  So I recommend seeking out one of those reissues as opposed to the "original".