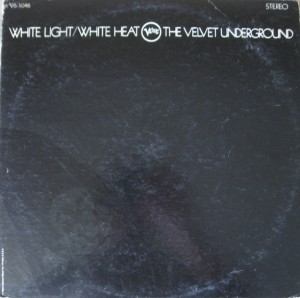 The Velvet Underground – White Light/White Heat Verve V-5046 (1968)
---
White Light/White Heat is an album that demands, but also teaches, a most elemental understanding of rock 'n' roll. In spite of its demands, it also opens up limitless possibility. It writhes not in perfection but realization. A cerebral work of great complexity, White Light/White Heat is a very important creative turning point in the history of rock music. The Velvet Underground nullified prior rock conventions in making the loudest album possible. What they left in their wake was a new world where a specifically urban rock 'n' roll ideal could begin to truly realize itself.
This is the album that assured John Cale a place in rock 'n' roll heaven. He won the Battle of "Sister Ray" (rock's greatest cutting session) because he had the loudest amp. But his organ solo on "Sister Ray" is something more. His minimalist keyboard pounding swaggered and twisted its way into rock 'n' roll lore.
Lou Reed played a customized super-guitar that was nothing short of a necessity. Reed had his 12-string hopped up with about seven pickups (one even borrowed off bandmate Sterling Morrison's guitar!). Solos on "I Heard Her Call My Name" (recalling Edgar A. Poe's The Raven) and "Sister Ray" are not trippy peace/love fare. They are original and timeless. Songs telling of amphetamine rushes, hallucinations and murderous orgies don't shy away from any subjects. Call them goth drug vampires or whatever, it is indisputable that the Velvets had an unbelievably deep and inclusive understanding of the nature of their medium. The dark ambiance of it all was at bottom more optimistic than cynical.
White Light/White Heat is almost a live album by its off-handed and raw nature. Yet, that is exactly what makes it great. It is the closest example of what the Velvets in their prime sounded like live. Any refinements would spoil the divine noise they created. White Light/White Heat is also what any future guitar-rock must be judged against. This is the prefect soundtrack for a real revolution. It's no wonder Václav Havel named Czechoslovakia's Velvet Revolution after the band as he did.
Lester Bangs said the Velvets "invented the Seventies." This only partially explains them. It was as if The Velvets slew the great beast guarding the inner circle of illumination. Here was a band having some new relationship with their instruments. They were not a bunch of depraved punks working solely with forbidden forms. Shattering the dogma still remaining in rock 'n' roll, the Velvet Underground questioned every rule previously deemed inviolable, in a genre that already seemed premised on breaking from convention. No amount of shock value could do anything for an album of this ilk.
The Velvets made something that lasts because of its philosophical premise. Music could be more than previously conceived; and it could do it with less. The immediacy is paradoxically the enduring quality. The urges and desires thumping to Moe Tucker's drum heartbeats are the stuff that sustains it. No routine survives. Maybe it's not enough to say that White Light/White Heat breaks conventions. It provides somewhat of a guide. It points you in a direction along an axis you never knew existed.
It takes a journey to the edge to properly stupefy yourself with existence. This is the album to take you there, to that edge. The one True musical Statement does not exist. White Light/White Heat, however, is a singular assertion. Sell a kidney if you have to, but you must get this album.