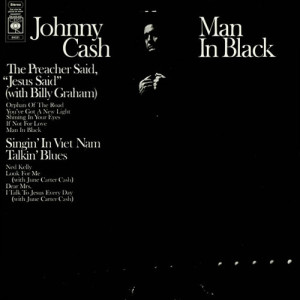 Johnny Cash – Man in Black Columbia 30550 (1971)
---
The accepted wisdom is that sometime around the 1970s Johnny Cash's music became effete.  It would be unfair to place any blame for that on Man in Black, which, aside from the still-better Ragged Old Flag, has to be one of his best offerings until the American Recordings two decades later.  Here he adopted a folky, singer-songriter style reminiscent of Orange Blossom Special or Hello, I'm Johnny Cash but more stripped down.  It works, and it works well.  Now, let's get one thing out of the way.  The opening song "The Preacher Said, 'Jesus Said,'" with its grating narration by Billy Graham (whom Malcolm X called a "white nationalist" and who advocated war crimes during the Vietnam War), is difficult to stomach.  Cash's "born again" christian sentiments get the better of him, and it certainly wouldn't be the last time.  If you can look past that first track, the rest is a lot more rewarding.  "Orphan of the Road" is a highlight, and makes it interesting to contemplate how a collaboration with John Fahey might have sounded.  Other songs like "You've Got A New Light Shining In Your Eyes," with its clear and bright vocals, and "Man in Black," with its empowered tone, are quite good too.  Side two features some interesting songwriting from Cash.  The beautifully honest "Singing in Vietnam Talking Blues" (sung to the same rhythm as "A Boy Named Sue") is an autobiographical account of a USO performance for U.S. troops fighting in Viet Nam.  He sings:
we did our best
to let 'em know that we care
for every last one of 'em
that's over there
whether we belong over there or not
That last line — just sort of tossed in — is really the sort of thing that separates Johnny Cash from so many other country musicians.  Reactionary populism runs pretty thick with a lot of country stars (check: Merle Haggard's The Fightin' Side of Me), but few are or were willing to even imply sympathy with protest or peace movements.  But Cash was always cut from a different cloth.  He sang songs about the North, about Alaska and Minnesota.  He also would sing songs for prisoners, like "Dear Mrs." here.  It's hard to pin down Johnny Cash on his politics.  He always dodged those issues pretty successfully, in part because he sometimes seemed to play both sides ("Ragged Old Flag" or "The One on the Right Is on the Left" anyone?).  In concert he once called himself a "dove with claws."  But his ability to successfully and quite matter-of-factly broach a lot of difficult and unpopular subjects (Bitter Tears: Ballads of the American Indian) and still maintain celebrity status was impressive.