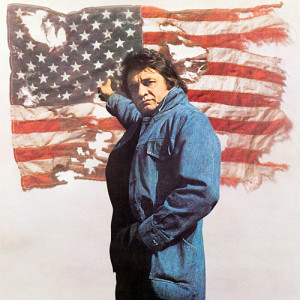 Johnny Cash – Ragged Old Flag Columbia KC 32917 (1974)
---
Johnny Cash's recordings of the 1970s aren't usually regarded well.  He seemed to struggle with issues that tend to face every big star eventually:  what happens when you've been around the business for long enough that popular tastes have changed and new trends and fads have come along?  Stay true to what you always did (even if that is less popular) or adapt to the times (can you pull it off)?  Interestingly, Cash tries a little of both with Ragged Old Flag.
The title track finds Cash displaying his most chauvinistic, nationalist populism, which is presented as mere patriotism during the midst of the Watergate scandal.  It's always hard to pin down Cash on politics, but it is common for people who lived through the Watergate era and fully understood Nixon's crimes to insist that the president shouldn't have gone to prison or been removed from office, just out of some vague sense of "patriotism".  Cash seems to take a similar view, at least by implication.  It's maybe also worth noting that Cash had met Nixon personally by this time, and had performed for him at the White House.
The album often recalls the "old" sound of Cash's 50s recordings.  But Charlie Bragg is the co-producer, and he seems responsible for providing a more contemporary country flair to some of the material here, most notably "Southern Comfort."  Cash has good support from Earl Scruggs on banjo and The Oak Ridge Boys on backing vocals throughout.  Some of the folkier moments build on what was achieved on Hello, I'm Johnny Cash and Man in Black too, with a little more slick and polished sound.
Cash wrote (or co-wrote) everything here.  Some of those efforts are worthy of note.  "Don't Go Near the Water" is an environmentalist paean.  It's something unusual for a country star.  Then there is "King of the Hill," a song that prefigures a lot of what Bruce Springsteen would become known for a few years down the line.  It's a song about "manly" men who want to succeed in life and go to the coal mines rather than the cotton mill to do it.  But by the end, the song conveys that eventually all the coal will be gone, and if you're not dead already you can call yourself king of the hill.  But it's a kind of sad prize, and Cash very subtly makes it an ironic one, implying (without clearly stating it, except through a little chuckle) that maybe it was all a waste.
This album is among the better of Cash's efforts of the decade.  Much of side two runs a little thinner after the good "Lonesome to the Bone," but side one in particular delivers some good performances and songwriting with energy and conviction.  This isn't the place to start with Cash.  Still, admirers may want to take a listen at some point as it would be a full twenty years before he made another album this good.