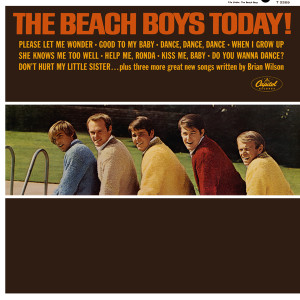 The Beach Boys – The Beach Boys Today! Capitol T-2269 (1965)
---
Brian Wilson was a disturbed guy too sensitive for the smallest amounts of social normalcy. This led him down the erratic and grand path that plays out across the Beach Boys' many albums. Those wanderings really began with The Beach Boys Today! The result is the complete range of wonder and horror pared down to universal experience lying within not just Mr. Wilson but the rest of us too.
There are three versions of the Beach Boys. Beginning with their scrappy little surf doo-wop number "Surfin'," they were the extension of a teenage garage band, and they made great songs that were catchy for all the usual reasons. The band, complete with Wilson brothers Brian, Dennis and Carl, were in it together. Things just came easily. Next came a split. With The Beach Boys Today!, Brian Wilson stopped performing live and focused solely on recording. Studio musicians came in to play on the records. This began the Pet Sounds era, with Brian Wilson's avant-pop genius at its peak. Then Finally, there was the lessening of Brian Wilson's input and the Beach Boys returned to a more commercial and "live" approach to their records. Maybe their oldies circuit geezer period makes a fourth, but the story is better without that part.
The songs of The Beach Boys Today! make pleasant companions. There are ones with a strong beat leaning more towards the surfin'/cars/girls attitude of the teenage Beach Boys. Then side two debuts the orchestrated pop that became Brian Wilson's signature. "When I Grow Up (To Be A Man)" is the kind of song ideal for a Wes Anderson film. "Please Let Me Wonder" takes the aching bewilderment of the newly reasserted Beach Boys to the precise affectation of wizened masters. And the opening cover of Bobby Freeman's "Do You Wanna Dance?" has Beach Boys harmony in one of its most dynamic settings. Brian Wilson has timpani rolls bouncing the beat. Dennis Wilson sings one of the refrains with a muffled, "squ-kiss me baby." The indecisive fronting belies the song's dead-on portrayal of longing and dreaming.
"Help Me Ronda" is the original album version and not the hit "Help Me Rhonda." This original is far denser and more intricate than the later incarnation issued as a single. The LP version does say something about what The Beach Boys Today! stands for. Though perhaps taking only a small step, this album goes beyond a mere collection of songs.