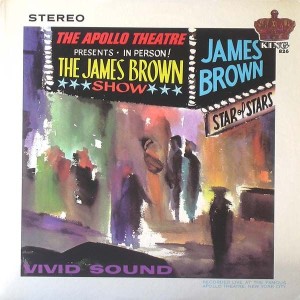 James Brown – The Apollo Theatre Presents – In Person! The James Brown Show King 826 (1963)
---
It is reasonable to say this is James Brown's best album. His studio stuff, like Hell for example, is great but it's only great music. With The Apollo Theatre Presents – In Person! The James Brown Show [a/k/a Live at the Apollo, 1962], James Brown materializes in front of your stereo. This is the James Brown experience, preserved in VIVID SOUND as the album jacket barks.
The announcer opens the show and the band plays James to the stage. The band holds back a moment as James shouts a cappella how right he feels. He launches into a powerful rendition of "I'll Go Crazy." His performance leaves no doubt: if she leaves him, he will go crazy. James immediately cuts to the pleadings of "Try Me." He doesn't work up to big numbers but jumps in head-first.
A live performance like this becomes a part of you. Screams from the crowd as "I Don't Mind" starts are like a bus ticket home. The crux of the album is the ten-minute version of "Lost Someone." He draws you into his personal audience (and charms the pants off any ladies present).
The show plays out before you. He collapses to his knees. Disciples rush to him with his signature king's robe. As they lift him to his feet, he pulls away and rushes back to the mic. No one will stop James Brown from singing for you. He collapses again, only to rush back to cry out a few more lines. This album recreates that unique drama on every listen.
This is James Brown and the Famous Flames — the band that established James Brown as James Brown, the Hardest-Working Man in Show Business, Mr. Please Please Please himself, Soul Brother #1. James Brown wasn't the greatest soul singer ever.  He was simply the one and only Mr. Dynamite. Nothing captures or describes the man completely, but damn, this little album comes close.
Recorded on October 24, 1962, this was the heyday of soul revue shows. Soul artists had to work the circuit and a show at the Apollo Theater was where things mattered. It's a short record. The sets had to be short and polished to fit in all the acts. Also on the bill that night in '62 were The Valentinos (Bobby Womack & family), Solomon Burke, Freddie King, and more. Something special happened when James Brown took the stage. Even following some great acts, the Famous Flames rise to the occasion. This set was tight. Maybe it was destiny.
James had a few hit singles, but this was his first hit album. Many of his albums are excellent of course, but this is a special one among them. The Apollo Theatre Presents – In Person! The James Brown Show is one that helped define what live albums are about. This is star time.
This performance runs straight to the heart of American music. All pop music must be compared to James Brown. Not that everything has to sound like him, but you at least have to try to be this good, this pure, this captivating