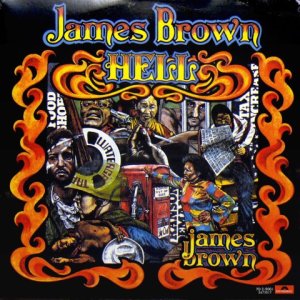 James Brown – Hell Polydor PD-2-9001 (1974)
---
Monster #1: "He's too strong, we can't stop him."

Monster #2: "That's because he's the Godfather."
Dialog between the cartoon monsters on the album jacket gets it down. Hell is James Brown at his super-baddest. He definitely sticks something funky to the man on this mother. From the early 60s to the mid-70s, James' music got increasingly complex and distinct. His bread and butter used to be fairly straightforward R&B numbers, like "Try Me." After "Papa's Got a Brand New Bag," that all changed.
James knew exactly what he wanted and how to achieve it.   His vision just happened to be completely unlike anything else in the world. Copycat funk groups—even really good ones—tend to wander through some beats and just fade out after a few minutes. This band is driven every second. Really, Hell couldn't happen without some great supporting musician: Maceo Parker, Lyn Collins, Fred Wesley, Pee Wee Ellis, David Sanborn, Jimmy Nolen, and Hearlon "Cheese" Martin are just a few.
The first half of the album (meaning disc one of the double-LP) features most of the hard funk ("Coldblooded," "Hell," "My Thang," and "Sayin' and Doin' It"), while the middle, transition part moves into more ballads ("These Foolish Things Remind Me of You," "A Man Has to Go Back to the Crossroads Before He Finds Himself," and "Sometime"). It seems a bit odd to include a version of "When the Saints Go Marching In" plus a Latin-tinged remake of "Please, Please, Please," but that little bit of self-absorbed madness keeps the album within reach. James Brown was still a singer of songs after all. On Hell he manages to call attention to just that, reinforcing his very clear messages. He throws aside smart maneuvering to focus on stupid, moving torch songs. Then he closes with some mid-tempo soul, including one of his best, "Papa Don't Take No Mess."
If for no other reason, this album is great because almost all the songs (10 out of 14!) start with the crash of a gong announcing James Brown's entry—implying an entryway to the music. Only the Godfather. It can be difficult to put Hell in a proper context, but those gongs are constant reminders that Hell is about finding a new context.
The Tom Tom Club in their song "Genius of Love" spoke some remarkable wisdom: "who needs to think when your feet just go?"  James Brown made intelligent, innovative music, but our feet might be too busy to dwell on it.