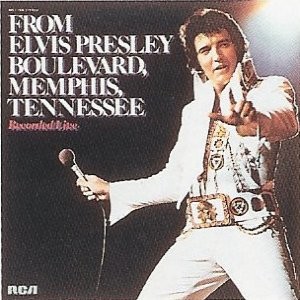 Elvis Presley – From Elvis Presley Boulevard, Memphis, Tennessee (Recorded Live) RCA Victor APL1-1506 (1976)
---
When people see the late-career Elvis as a bloated, cliched wash-out, they probably have recordings like From Elvis Presley Boulevard, Memphis, Tennessee in mind.  Recorded in the campy "Jungle Room" of his own Graceland mansion with mobile recording equipment, these songs reflect a tired soul retreating to a safe haven, away from the world.  Mostly lonely heartbreak ballads, these are bleak songs.  You can feel Elvis' connection to the mood.  Yet, the main limitation is the slapdash quality of the instrumental music behind The King, offering mostly a cookie-cutter countrypolitan sheen with treacly strings that bowl over the nuance in the vocals.  In a way, the backing tries to take depressing songs and make them cheerier, which is entirely counterproductive.  Elvis' band members were already seeking other opportunities.  It seems like supporting him was becoming a low priority for them.  Though in fairness Elvis provided little direction and the cramped recording locale hardly helped.  The net result is to make this album a little dull.  It won't convince anyone of the real depths of the man's talents.  Yet, if you make an effort there are some worthwhile things here, and Elvis does sing reasonably well.
It's fascinating to compare the careers of Elvis Presley and Johnny Cash.  Both came from rural origins and both broke through on Sam Phillips' Sun Records in Memphis.  Both developed drug problems in the face of grueling touring schedules and the enormous pressures of the entertainment industry.  Elvis became a movie star and then jumped right back into music full time with a fascinating TV special.  Cash hosted his own TV musical variety show and then toured with a large revue show not unlike Elvis' breakthrough Vegas act.  By the end of the 1970s both stars had faded.  Cash made a comeback in the 1990s, while Elvis had made one himself in the late 60s.  Of course, the two stars couldn't have had more different personalities.  Cash had a reputation for always insisting on doing things his own way, while Presley was timid and non-confrontational when it came to his career.
When Johnny Cash made his comeback, it was by mining the darker elements of his music, with faddish attempts to sound "current" taken away to leave just a raw, "authentic" folk sound.  In a way, Elvis was also mining the darker aspects of his music shortly before his death, but his handlers didn't seem to understand how to deal with that kind of approach.  Someone should go back and strip out the harps, string orchestration, stuffy horns, and some of the backing vocals (much like what was done on Naked Willie), and maybe even re-record new backing instrumentals (the approach of Guitar Man), because there is definitely something to be found in Elvis' performances here of value, if separated out from everything weighing them down.