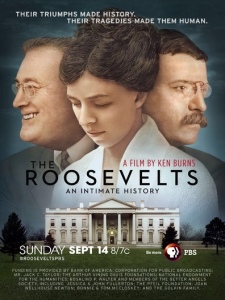 The Roosevelts: An Intimate History (2014)
Director: Ken Burns
Main Cast: Meryl Streep, Paul Giamatti, Edward Herrmann, Peter Coyote
---
Ken Burns' documentary of the Roosevelt family, focusing on Teddy, Franklin Delano, and Eleanor, is for the most part the same sort of pablum found in almost all of his films.  It posits the Roosevelts as the greatest political family America has ever seen, and probably ever will see, and the protectors and masters of liberal politics.  If you want a film that questions political dynasties at a fundamental level, or any such critiques, you are watching the wrong sort of film.  As Mason Williams has written, the documentary focuses on the personal somewhat to the detriment on the public aspects of the Roosevelts.  In that sense, it is a film built on a very reductionist, essentialist worldview, not far off from biological determinism.
The film is organized chronologically, beginning with the family's move to America and their success in business, and then leads into Teddy Roosevelt's political ascent.  This is followed by Franklin's political ascent, and then Eleanor's widow years.
Commentary on Burns' Jazz still applies:
"By now his technique is as predictable as the plot of an episode of 'Friends': the zoom shot on a still photo, followed by a slow pan, a pull back, then a portentous pause — all the while a monotonous narration explains the obvious at length." Serpents in the Garden
One quirk in this film is the casting for voice actors.  Paul Giamatti portrays Teddy, and he's a hilariously poor choice.  Nick Offerman seems more apropos.  It may seem like a minor issue, but it sheds light on a problem with the entire project.  The film seems like it fits the facts to the people working on it, rather than the other way around.
We are to believe that the Roosevelts were great due to the individual greatness of people like Teddy, a favored son of a wealthy family with opportunities most would never dream of.  As a portrait of his personality, largely irrelevant to his public legacy, it probably is fair.  There is some treatment of his activism against business — this was the only president to give a speech railing against the "malefactors of great wealth" and back it up with some action.  Though Burns' stops well short of adopting historian Gabriel Kolko's position that Teddy's administration actual helped big business (to achieve stability) rather than constrain it.  His hubris following his presidency is his undoing, and the film does thankfully look askance at Teddy's racism and imperialism.
The story of FDR's life is most interesting in describing the time before he contracted polio.  He was a dandy and a mamma's boy.  And he was insufferable.  After contracting polio, the narrative shifts to his overcoming the effects of the disease to forge his political career.  It certainly was an achievement.  There is discussion of how his medical condition was concealed from the public with the assistance of the media.  There is, however, a clear bias in favor of FDR, in that the filmmakers clearly see FDR as knowing what is best for the public more than the public does for itself, thereby justifying this media complicity.  One historian after another lines up to emphasize how the media of today wouldn't do that, and someone like FDR, or Teddy even, would never win a major office as a result.  But they don't talk about a media "propaganda" model, or campaign financing.  Instead, it is a matter as simple as tabloid journalism focusing on personal ailments and the like rather than the "real issues".
The coverage of FDR's presidency is mostly fawning, uncritical gushing.  Ken Burns has always forged a sort of suburban liberalism in his films.  This one is no different.  FDR is presented as the president of the people, the most leftist.  Anyone to the left of FDR is simply ignored.  This is problematic.  There is little to no mention of FDR's "brain trust" and the assortment of advisors who urged more leftist policies than FDR was willing to accept, often to the detriment of lasting outcomes.  FDR's programs are praised, criticized for tactical errors but not for being inadequate at a theoretical level.  FDR's VP Henry Wallace is marginalized, to Eleanor's chagrin, and Harry Truman is unleashed on the world.  Negotiations during WWII are the most curious part of the film.  Burns' view of the war is unreliable, and clings to Cold War paranoia.  For instance, there is constant suspicion of Josef Stalin, leader of the Soviet Union.  Stalin's concern about Western encroachment is dismissed as paranoia.  And yet, history has shown Stalin's concerns to be entirely justified.  As Burns' film aired on TV, the U.S. was actively involved in fomenting a coup in Ukraine, to move NATO closer to Moscow and implement a financial takeover.
FDR and Winston Churchill are portrayed as the saviors of the world who defeated the Nazis.  This, again, isn't particularly accurate.  The Nazis were defeated primarily by the Soviets, in what they called the Great Patriotic War, as the Nazis launched Operation Barbarossa.  Hitler invaded the Soviet Union, violating a non-aggression pact with the Soviets, with the largest invasion force ever assembled in the history of warfare.  Over four million Axis troops participated in the invasion.  Over five million Soviet citizens died repelling the invasion.  You won't hear any of this from the Ken Burns film (details are available, for instance, in Harrison Salisbury's The 900 Days: The Siege of Leningrad).  Instead, Stalin is a skeptic holding back Churchill and FDR.  D-Day turns the tide of the war (really, it barely worked, and then, only because of failures of the Axis powers during Barbarossa).
FDR gets very much a pass on his support for the Manhattan project.  Robert Oppenheimer ran the program, and later famously commented that it should have bee shut down "the day after Trinity," in reference to the test explosion code-named Trinity.  Sure, Truman ordered the bombs dropped not FDR, but he was just carrying to conclusion an FDR program created for that purpose.
Burns is yet another of those "liberals" who asserts that politics should go a certain amount to the center-left and not one step further, with no justification whatsoever for where that line in the sand is drawn.  There are no leftist critics of FDR featured.  The late historian Howard Zinn noted how much of FDR's presidency can be explained through simple imperialist ambitions.  He also wrote "The Limits of the New Deal" in New Deal Thought (1965):
"When the reform energies of the New Deal began to wane around 1939 and the depression was over, the nation was back to its normal state: a permanent army of unemployed; twenty or thirty million poverty-ridden people effectively blocked from public view by a huge, prosperous, and fervently consuming middle class; a tremendously efficient yet wastefully productive apparatus that was efficient because it could produce limitless supplies of what it decided to produce, and wasteful because what it decided to produce was not based on what was most needed by society but on what was most profitable to business."
Economist Alan Nasser has written about how FDR worked to undermine Social Security and preserve business profit interests.  FDR was a committed fiscal conservative.  He was not a supporter of social programs.  He was forced to adopt them by popular pressure and unrest.  Burns' film makes a particularly egregious mischaracterization of the Bonus Army.  These were WWI veterans who protested outside the White house to receive a promised bonus early, in view of the dire circumstances of the Great Depression.  The film mentions them being a problem of the Hoover administration.  This is true, as far as it goes, but the Bonus Army marched again during FDR's presidency.  The film does not mention this fact.  FDR opposed their demands, and congress overrode FDR's veto to pay the veterans their bonuses early.
Eleanor emerges as the best of the Roosevelts.  Not only as the lead author of the UN's Universal Declaration of Human Rights, but also as a voice of conscience against FDR's crass political machinations.  It is too bad she wasn't president, or at least that FDR had listened to her and made Henry Wallace his final running mate instead of Truman.  Like the others profiled, her public accomplishments take a back seat to personal details of her life.
So, at the end of the many, many hours of this film, one is left knowing rather little about what the Roosevelts accomplished politically, and is instead given more of a portrait of the lifestyles of the rich and famous who like to dabble in politics.