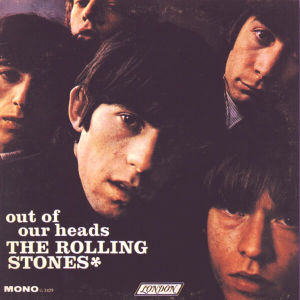 The Rolling Stones – Out of Our Heads London LL 3429 (1965)
---
There was something in early Stones records that wasn't in early Beatles records. The Beatles seemed to pick up Afro-American songs and meander through white bread renditions that tended to conform to a white bread middle class lifestyle, tending to unwittingly bleach the black out of them. The Stones had more enthusiasm in what they did. Playing a Marvin Gaye or Solomon Burke song gave the Stones opportunity to share in a "break-free" attitude that was becoming a centerpiece of rock 'n' roll. The Stones added their own personality to their records, sometimes by accident, but they always found what was eternal in the soul of American rock 'n' roll songs. Just because Mick Jagger and Keith Richards became such noted songwriters doesn't mean the beauty of their performance of others' songs should diminish.
"The Last Time" is side one's hit. Side two opens with "Satisfaction." The songs of less popular distinction are still amazing. "The Spider and the Fly" is a fantastic delta blues number probing the immobility of the moving rhythms. It was the B-side to "(I Can't Get No) Satisfaction." It also is the kind of song the Stones needed more of in the years after Brian Jones. "The Under Assistant West Coast Promotions Man" is a smooth number at a medium tempo. That song wouldn't work as a single but it does so much for side two of the album. There is positive energy always coming through.
This is a record with no pretensions. Later Stones albums get more hype but they generally don't have the offhand, hurried and unguarded charm of Out of Our Heads. The high and low cool of Keith Richards' guitar is like no other joy. Set against the unidentifiable genius of Brian Jones the Stones ramble on with Mick Jagger strutting past his agony as if he would never consider whether it could overtake him. On Sam Cooke's "Good Times," Jagger sings with credulity. His voice feels right–graceful enough. In a way you don't ever consider proving since every instinct says you can trust it, it comes from a good place.
[Note that the UK version of Out of Our Heads, which came out after the US version, did not have the hit singles on it and added tracks from December's Children (And Everybody's), which was not released in the UK. The UK version of Out of Our Heads may be the better album.]