Nina Simone was an enigma.  She is often described as a jazz singer.  She wasn't one of consequence.  Stack her next to an actual jazz singer and this becomes pretty clear.  She developed a reputation as an artist with moral integrity.  Yet that reputation wears thin when looking at how many misguided concessions to pop fads are littered all through her recording career.  Much is made of her bitter break from Euro-classical music early in life.  Denied entry to a conservatory (The Curtis Institute of Music) as a pianist, she turned to singing in lounges.  Little of her piano playing impresses on her own recordings, though it can be effective in accompaniment.  But when you hear her voice on a good recording, she definitely had something special.  Singing may not have been her desire, but it was her great talent.  Sometimes talents choose their medium, rather than the other way around.  She was often at her best when adding a rough blues or gospel or jazz inflection to burningly austere chamber pop songs.  She was sort of a gothic shadow cast from commercial pop.  It was the tone of her voice that embodied a palpable sense of anger that drove so much of it.  Close listening doesn't reveal much clarity in her rhythmic phrasing, her control of vibrato, her pitch range, or even her use of melisma.  All that aside, she had the power to deliver songs as if saying, with a firm scowl, "I will sing this song and I will make you remember it."  The single-minded resolve to put her own identity into her music is fiercely determined.  This makes the greatest impression on the material that resists that approach.  When she worked with jazzy orchestral backing, as was a prevailing style for a time during her long career, the resistance to her identity could be too much.  When she played straight blues or even militant soul and R&B, there was nothing really working against her identity to put up any challenge.  She reversed her formula and added formal pop technique to rougher electric soul and R&B, and it came across as a reflection of her limitations rather than her positive talent.
What follows is a long yet incomplete set of brief reviews of her albums.  This is limited to what I've heard, which does not include anything from her time with Colpix Records. 
---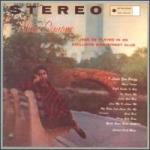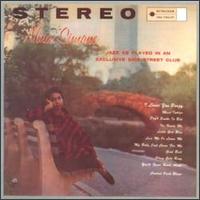 Little Girl Blue (1958) – Simone's first album is sort of a microcosm of a lot of what came through in the rest of her career.  There's really excellent stuff, the vibrant, effortless buoyancy of "My Baby Just Cares for Me" — with Simone embracing the lightness of the song more than she would later in her career — the smooth, lonely grace of "I Loves You Porgy" — where her gently unobtrusive piano accompaniment suits her plaintive vocals — and the stark, harsh, painful solemnity of "Plain Gold Ring" — a tone she would later use many times over with success.  But there are also plenty of really overextended, flashy gimmicks that go beyond Simone's range, particularly as a pianist ("Mood Indigo," "Love Me or Leave Me," "Good Bait").  This seems mostly like a "hep" jazz album, but the pure instrumental cuts ("Central Park Blues," "You'll Never Walk Alone") drag as rote exercises at best dressed up with touches of stodgy formalism while the poppier stuff crackles with more vibrancy and confidence.  This album has more or less continuously remained in print since the 1950s, and is among Simone's most well-known.  It is dominated by atmosphere, which is probably why it is so well liked — it can be easily pigeonholed as "jazz as played in an exclusive side street club" (so says the album jacket).  Yet Simone's most fundamental approach to performance was all about stamping her own personality on her music, and there isn't so much of that here, for better or worse.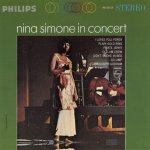 Nina Simone in Concert (1964) – I will break ranks and say this doesn't really belong among Simone's most respected albums.  It is an assemblage of material from three live performances from March and April 1964 in New York City.  The Brecht/Weill theater song "Pirate Jenny" (Seeräuberjenny) is the best here, in a performance that may even surpass that of some of the best known Brecht/Weill interpreters.  The Brecht connection really puts Simone in an interesting light, if you want to make anything of her leftist politics.  Otherwise, there's a bit too much mugging to the audience, even if that is done with Simone's characteristically defiant attitude.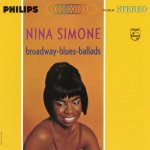 broadway • blues • ballads (1964) – Simone's second album for the Philips label sets the tone for much of what followed in the mid-1960s.  She is paired with two different arrangers (Hal Mooney and Horace Ott).  The format of the album pays much deference to New York City theater as a taste arbiter.  In many ways, though, the fact that Simone is not a typical Broadway show tune singer of traditional pop is a major advantage.  It lends a subtle sense of adventurousness to the songs even as she accedes to the role of a "typical" orchestral pop singer — still leaning away from the social norms that the style suggests.  The other strength is that the arrangers manage to support Simone without drowning her out, even if occasionally she seems forced into uncomfortable upper registers of her vocal range.  A well-crafted album, and among the better of Simone's more conservative albums, despite a couple duds ("How Can I?," "Night Song").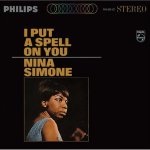 I Put a Spell on You (1965) – Recorded in New York City, but aping the sounds of swinging London a wee bit.  Arrangements of a large orchestra are alternately by Hal Mooney and Horace Ott again, though Mooney's efforts are consistently the most rewarding in these performances (Ott's "Tomorrow Is My Turn" is still good).  Not all this works.  "Marriage is for Old Folks" has her singing coquettishly lyrics that are too light.  "Feeling Good" sounds much, much better — opening in stark a cappella, then bolstered by a proper orchestra playing as grim and raunchy as it possibly could, the song seems to evolve through movements.  Having Simone open it all alone establishes a relationship to the orchestra that she dominates.  The orchestra must come to her, on her terms, almost on bended knee.  No, she makes them crawl.  "Ne Me Quitte Pas" burns with intensity.  This album almost seems like part of the infusion of theater music to the New York Greenwich Village folk scene — something that was taking off around the time of the recording.  There are touches here of a lot of what Philips was releasing from many different artists during this era.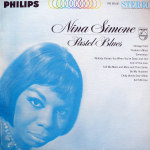 Pastel Blues (1965) – One of the most highly regarded of her recordings.  Part of the large clutch of albums recorded for Philips in 1964-66, this one is unusual for having the instrumentation stripped back to just a small combo.  Her voice has no competition for the spotlight.  While it may be hard to point to any individual performances here as her very best, this is Nina at her most cohesive and consistent at album length. As good as any place to start, and an album listeners are sure to return to more than most.  If you only listen to one Simone album, this might be the best choice.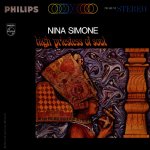 High Priestess of Soul (1967) – Another of those albums where Nina jumps all over the place.  The best stuff is fantastic.  Despite a few missteps, this album manages to portray an urban environment that acts as a nexus for music from many cultures.  It is like the musical equivalent of being "well read" in literature.  The burning, Afro-conscious tune "Come Ye," the gospel ballad "Take Me to the Water," the elegiac heartbreak torch song "Keep of the Flame," the smooth and easygoing socially-conscious soul of "Don't You Pay Them No Mind," the retro big band swing tune "The Gal From Joe's" . . . these are all delivered with conviction.  They suggest that the future was open to any number of paths.  Some proponents of the adventurous tropicália pop music coming out of Brazil in the coming years seems to drawn a line directly from this sort of eclectic musical outlook.  But "Brown Eyed Handsome Man" is evidence than neither Simone nor her producer/arranger Hal Mooney had any idea of what to do with rock 'n' roll music.  Simone and the orchestra plod along on an incredibly stiff rhythm and everyone involved seems so self-conscious about maintaining the syncopation that Simone's monotone delivery ends up being only one of many faults.  "I'm Going Back Home" is an improvement, though the orchestra could still stand to loosen up further.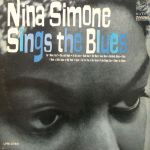 Nina Simone Sings the Blues (1967) – Nina switched record labels over to RCA and she's suddenly in a rawer, electric blues setting, with only a hint ("My Man's Gone Now" from Gershwin's Porgy and Bess) at the sort of showtune and cabaret type of stuff she had recorded much of in the earlier part of the decade.  To her great credit, she's more engaged with the backing band that should would be in subsequent years.  She uses a lot more vibrato than your typical blues singer.  This gives the music a more reflective, pensive quality with less guttural drive than many other examples of the genre.  This album maintains an evenhanded focus that has made it one of her more popular ones, though there's a faint sensation that it relies on a fish-out-of-water novelty factor to sustain itself.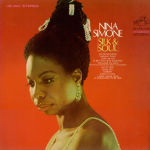 Silk & Soul (1967) – She goes all-in for soul music.  The results?  Unimpressive, for the most part.  She is awkward.  Still, "Love O' Love" is more of a throwback and is a keeper, as is the more conventional "soul" of "I Wish I Knew How It Would Feel to Be Free."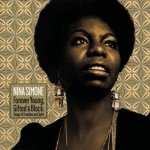 Forever Young, Gifted & Black: Songs of Freedom and Spirit (2006) – A compilation of material from her years with the record label RCA at the end of the 1960s.  This is among the more maligned periods of her recording career, in hindsight.  She was actively enmeshed in "soul" music, recording with pronounced funky electric bass lines, rock-styles horn sections, and frequently accompanied by backing singers.  This is fine enough stuff, but Nina is just playing the role of a militant soul singer.  It is a role that suits her.  So, oddly enough, going with the grain rather than against it has her seeming a little more ordinary as a performer.  A complete picture of Simone's career has to include this period, but it doesn't seem to captivate like her very best work.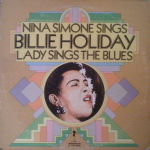 Nina Simone Sings Billie Holiday: Lady Sings the Blues (1972) – Simone is closer to her comfort zone with an album in tribute to Lady Day.  The music paid little mind to contemporary tastes.  Thankfully, rather than coming across as indifferent to the musical accompaniment, Simone is intimately in contact with her bands most of the time.  This album is recorded terribly, sounding muddy and indistinct.  But that is because it was a sourced from primitive, sometimes live recordings made by her husband and manager Andrew Stroud.  It was also for a long time one of the more obscure and hard to find Simone albums.  It captures a less commercial side of her music when those concerns were seeming like more of a detriment than ever.  Yet, commercial or not, Simone and her band do lapse into a zone of much too much comfort when they deploy lame quotes and generally seem to rely on a captive, deferential audience rather than trying to find a new one.  The sound is too poor for casual listeners, and a few performances are uneven ("Just in Time", a song by Stroud), but minor gems like "Tell Me More and More and Then Some" may pique the interest of the devoted.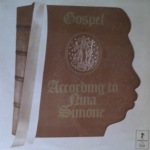 Gospel According to Nina Simone (1973) – Another obscure album from her husband's record label.  Another muddy recording.  It isn't all gospel.  This meanders a lot.  The recordings are practically demos.  It mostly suffers from not having much of interest to support Simone's voice.  Pass on this one.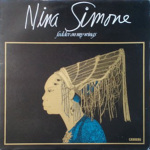 Fodder on My Wings (1982) – Defiant as ever, this album, recorded in Paris with plenty of lyrics in French, has Nina again bending pop music of the day to her own will.  But here that means an altogether brighter type of music.  There is a lot of calypso, lite pop reggae and afro-pop influence, even sunny cape jazz.  "Vous êtes seuls, mais je désire être avec vous" seems to trump the more widely popular fusions of African music with light western pop by others later in the decade.  Her voice is relatively strong for nearing 50.  But it does crack.  Looking back on this, it has a certain knowing and wise aura, taking the latest musical fads and trying to make them her own even — or more accurately precisely — as she fades from the public eye.  This takes a star of another era and confidently attempts a complete takeover of contemporary fads, tossing aside every intention that the new guard had for their approach to recording while assimilating all their techniques.  This is a later one that for a change has some of the merits of her better early recordings.  The "world music" flavor might not be to everyone's tastes though.