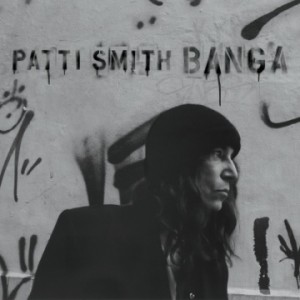 Patti Smith – Banga Columbia 88697 22217 2 (2012)
---
Assured pop/rock music suits the mature Patti Smith.  After an increasingly disappointing string of albums for Columbia late in life, Banga is her strongest offering in a long, long time.  It simply tries, more successfully than the tediously nostalgic Twelve, the bland Gung Ho, or the inconsistent and forced Trampin'.  She is making music a little less aggressively "rocking" and more pleasantly and melodically poppy (with echoes of her late 1980s effort Dream of Life).
Frankly, Patti in her late 60s fronting raw punk rock would seem a bit out of place.  It is not the sort of thing someone her age can pull off, if for no other reason than it was a technique of the past and such a thing would only appeal to listeners stuck in the past.  Instead, she is crafting detailed, nuanced pop songs.  Everything she does here has precedent, not necessarily in her work, but in rock and pop generally.  She summons it.  She guides it.  She makes a case for the continued relevance of pleasant sounding rock music to open a channel with audiences.
Many of these songs are tributes, to fallen comrades or simply historical figures.  "Maria" (for the late actress Maria Schneider) builds gradually to some of the most prominent electric guitar work on the whole album.  The opener "Amerigo" is about Amerigo Vespucci, the Italian explorer who is the namesake of America.  But the song is a meditation on how the New World has the capacity to change the European colonizers as much as they sought to conquer it.  "Tarkovsky (The Second Stop is Jupiter)" is for Soviet filmmaker Andrei Tarkovsky.  It has touches of cabaret jazz, wedded to psychedelic guitar and stark spoken word from Smith.  Bits of "Constantine's Dream" seems to bear an uncanny resemblance to The Birthday Party's goth-rock staple "Junkyard."
The best that Banga has to offer is a steady determination to keep going in the right direction.  That is, it doesn't give in to complacent comforts of later life.  It doesn't just toil away in the same way as before though.  Patti is still trying to adapt to circumstance.  This is her most inspiring quality.  She is a shining example of how there are ways to look at the world that bend through time but keep moving toward some kind of good and better world.