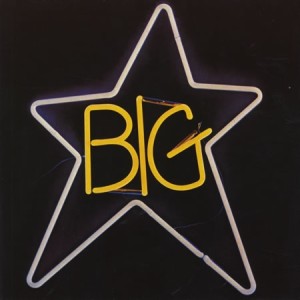 Big Star – #1 Record Ardent ADS-2803 (1972)
---
Big Star's debut, distributed by Stax no less, was a watershed event for pop music. This would be a little hard to guess at the time since it only sold maybe 4,000 copies on release.
Disillusioned with phony hit makers The Box Tops, Alex Chilton joined up with Chris Bell (and the group Icewater) to form Big Star. Memphis was certainly known for blending musical styles, but Big star was different. Call it power pop or whatever, it was "experimental" pop music. The group took big catchy melodies and combined them with smooth harmonies. This was not unusual, as British Invasion groups showed a few years before. The difference was the amount of "pop" they could cram into a song. They also used a personal and honest approach. These songs portray everyday life with a complexity and compassion not found elsewhere.
Though Alex Chilton was the big name (simply for coming from The Box Tops) that attracted the most attention, Chris Bell is perhaps the biggest force on #1 Record. Only briefly do the songs touch on the dark insecurities that Chilton later brought out. When they do, it is more of a recollection of times passed. Here, Bell conveys hope and perseverance. "My Life Is Right" shows satisfaction. "Watch the Sunrise" is triumphant in telling of the future success. Bell brings in some religion on the brilliant "the Ballad of El Goodo" and more explicitly on "Try Again." Again, the beauty lies in the complexity of the emotions. "Thirteen" is about innocent teenage romance but it speaks only of timeless hopes that still remain.
The emphasis on acoustic guitars and smooth vocals is unique to the group's debut. There is an "indie rock" kind of feel. It's natural. #1 Record also has enough personal recollection and noble aspirations to make the material meaningful. Big Star had a vision of the world that is easy to accept.  It is real, honest, and fun.
#1 Record was the last effort to really include Chris Bell. After the record's commercial failure, the group split up. They did reform (actually multiple times), but Alex Chilton took control of the band. Bell turned suicidal and largely due to artistic differences did not take any credit for some contributions to the group's second album. Big Star consistently released brilliant material but met stiff commercial opposition. Such a situation (think Vincent Van Gogh) is hard to take. Bell spiraled out of control, and died in a car wreck a few years later (recording just one solo album, posthumously released over a decade after his death). Alex Chilton alternated between heavy drinking and a solo career. But Big Star, especially on #1 Record, always sounded right.
Stax may have been failing, but groups like Big Star and Black Nasty proved there was great music still to be made — even if only on the fringes.