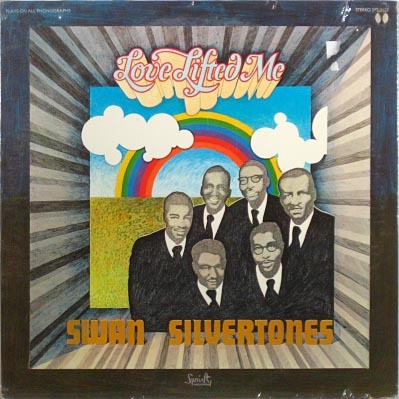 A twelve song tribute to one of my favorite musical groups, The Swan Silvertones.  This isn't a "best-of" list or anything of the sort.  I just feel that this group, which was capable of just about reaching musical perfection from my point of view, is sadly unknown and as a result too many people are missing out.  So, enjoy!  This list will be continued with The Swan Silvertones, Part II, The Swan Silvertones, Part III, The Swan Silvertones, Part IV and The Swan Silvertones, Part V.  Maybe I should also mention that I have zero interest in the religious content of this music.
As The Swan Silverton Singers; single (1953); available on Love Lifted Me/My Rock (1991)


It may have a sentimental attachment, being the first Swan Silvertones song I ever heard, but this version of "Trouble In My Way" is what I consider the definitive Swan Silvertones recording.  It is hard gospel, with a syncopated rhythm, tight backing harmonies and soaring lead vocals on the top.  The two leads trade back and forth, and play off each other by contrasting coarser shouted vocals and smoother ones that effortlessly leap into falsetto range.  I sometimes listen to just this song over and over and over again.If music has gotten better than this, I haven't heard it.

As The Swan Silvertone Singers; single (195?); available on Love Lifted Me/My Rock (1991)

A great song that provides lots of space for impressive melisma early on, and a pronounced call & response passage later on too.

3. "Glory to His Name"

As The Swan Silvertone Singers; single (195?); available on Love Lifted Me/My Rock (1991)

Claude Jeter is without a doubt my favorite singer.  There are few songs that highlight his vocals better than "Glory to His Name".  The first ten seconds alone should be enough to convince a few other people to become fans too.

4. "The Blood of Jesus"

From Pray for Me (1975)

A track that relies more heavily on guitar accompaniment than usual.  The laid-back mood here always reminds me of "(Sittin' on) The Dock of the Bay".  I love Louis Johnson's cracking vocals early on.

Single (1960), and on Singin' in My Soul (1960); available on Singin in My Soul/Blessed Assurance (2002)


The opener from the group's best album is a fantastic slow-moving number that draws you in to the pristine vocal harmonies.  Then the subversive guitar accompaniment, from Linwood Hargrove I'm assuming, keeps you in it all the way.  Here's a track that shows how The Swan Silvertones could just do it better than anybody else.

Single (1958), and on The Swan Silvertones (1959); available on The Swan Silvertones/Saviour Pass Me Not (2001)


The improvised lyric "I'll be your bridge over deep water if you trust in my name" from this song inspired Paul Simon to write "Bridge Over Troubled Water", which is a bit of trivia that has probably brought quite a number of new fans to The Swan Silvertones' music through the years.

As The Swan Silvertone Singers; single (1952); available on Love Lifted Me/My Rock (1991)

I love the line Claude Jeter sings that goes "I'm gonna eat at the welcome table".  His phrasing is amazing.  The harmonic resolution at the very end is classic too. When the group went to the Pittsburgh radio station WPGH to record a number of tracks, this one among them, Art Rupe of Specialty Records sent along a letter to chief engineer Ralph Ketterer that said, "This type of performance may be foreign to you, but essentially we want the singers to sing out freely.  PLEASE DO NOT HOLD THEM BACK IN ANY MANNER.  If they want to shout, let them shout.  If they want to cry on the recording, let them cry."  I hate to think what might have happened without that letter!

As Swan's Silvertone Singers; single (1948); available on 1946-1951 (2005)

The Swan Silvertones' earliest singles found them merely warming up, in a way.  Supposedly their label didn't support them in recording hard gospel, pushing instead for a more folk or hillbilly sound.  Their earliest sides tend to fall more or less into the "jubilee" gospel style, and the arrangements are reminiscent of recordings by The Soul Stirrers and The Blind Boys from the same time period.  As the 1950s rolled around, you can hear them pushing the boundaries a bit more, with the lead singers going out further and further from the backing harmonies.

9. "Prayer In My Mouth"

As The Swan Silvertone Singers; single (195?); available on Love Lifted Me/My Rock (1991)

Another classic track recorded in the 1950s.  Solomon Womack (Bobby Womack's uncle) takes the first lead.  Womack passed away in the mid 1950s, and the band suspected it was because the demands of touring had taken quite a toll on him.  The bass vocals on the second lead (Henry K. Bossard I think) are a cool change of pace before Rev. Robert Crenshaw launches into his wild shouting in the final lead.  I have seen Henry K. Bossard credited as the songwriter of "Prayer In My Mouth", but it is essentially the same song as "Guide My Hand" that The Dixie Hummingbirds had recorded a few years earlier.

10. "Search Me Lord"

From Let's Go to Church Together (1964)

Let's Go to Church Together is perhaps the most subtle Swan Silvertones album.  It might be live judging from the sound, but I can't confirm that guess.  It's not the place to start, but it's great place to end up.

11. "Bye and Bye"

From Saviour Pass Me Not (1962)

The arrangements on The Swan Silvertones' full-length albums had grown quite complex by the early 1960s.  From their eclectic Saviour Pass Me Not album, "Bye and Bye" is just another great, upbeat song of which The Swans had no shortage.

12. "He Saved My Soul"

From Blessed Assurance (1963)

The Swans could do it all.  This song finds them singing against a pronounced rock 'n' roll backbeat.  Not much of a leap between this and soul music.  The group's sound would increasingly move in this direction, especially after about 1966 or so.