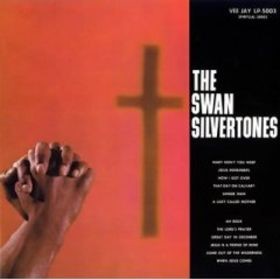 The Swan Silvertones – The Swan Silvertones Vee-Jay LP 5003 (1959)
---
The Swan Silvertones had been around for over two decades before they released their first album of new material.  Their previous new recordings had been released as singles, first for King Records and then Specialty.  In the late 1950s, they switched to Vee-Jay Records, the label that released The Swan Silvertones.
The group's first full-length album marked a new approach for the group.  Having already developed their own style by the end of their tenure at King and perfected their musical ideas at Specialty, they transitioned to a phase where they were now expanding upon the elements of their music that were already in place.  The Swan Silvertones really set the tone for all the albums the group would release through the 1960s, with an increased use of instrumental accompaniment and more ornate arrangements.  Often the use of instrumental accompanists went hand in hand with allowing more layers in the song arrangements.  There was also a more liberal use of space.  These trends combined to give everything a softer edge than the "hard gospel" recorded for Specialty.  The LP format also allowed them to record a lot of slower songs to break up the more familiar up-tempo numbers in the album sequencing.  This works well, and the group would only improve on those kinds of subtleties of the album format on subsequent releases.
Songs like "Mary Don't You Weep" and "Jesus Remembers" demonstrate the full power of what The Swans were capable of in their Vee-Jay era.  Elsewhere on the album particularly in the middle, the results aren't quite as exciting.  Some songs with a rather conventional doo-wop feel tend to come across as filler.  And at times the arrangements, as on the version of "How I Got Over" included here, feel a bit forced and claustrophobic.  The group's ambitions seem to get ahead of themselves in piling too much into a single song.  This isn't a condemnation of the album though.  In fact, there really isn't a bad track here.
As a bit of trivia, note that some of the lyrics sung by Claude Jeter or possibly Paul Owens ("I'll be your bridge over deep water if you trust in my name") from the opener "Mary Don't You Weep" inspired Paul Simon to write "Bridge Over Troubled Water".  Jeter later was a guest vocalist on one of Simon's solo albums.