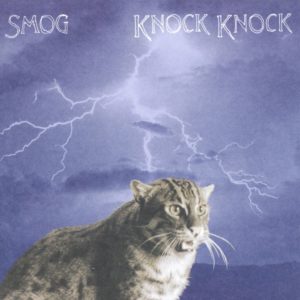 Smog – Knock Knock Drag City DC161CD (1999)
---
In some ways this album is the culmination of what the 1990s alt-rock era promised and sometimes delivered — following on what PJ Harvey's To Bring You My Love was a few years earlier.  The music is bleak, in a way, but just as much determined to not let that kind of mood dominate.  Bill Callahan's resonant but monotone and melancholy voice is set against a childrens chorus ("No Dancing," "Hit the Ground Running"), grinding and grooving guitar riffs, and even strings and a few eccentric instruments.  There is seemingly no cause for the melancholy other than a pure choice of free will.  And yet, Knock Knock renders such a choice of subjective mood one that is not made lightly or without difficulty.  Quite simply, the choice gives itself meaning through its inability to trivialize the mundane.  There are a lot of little hang-ups in here.  The post-rock/math-rock repetitions underscore the challenge of desire and willpower.  How, then, to carry the burden of responsibility for them?  So on the opener "Let's Move to the Country," the song's protagonist goes to the country, "just you and me / a goat and a monkey / a mule and a flea."  Callahan's lyrics try to grasp the foibles of masculinity and relationships with due seriousness, but — and this is really Callahan's greatest talent — he struggles not the slip into a feigned approximation of seriousness.  And his satirical black humor always comes through.  So he sings, "Let's start a … / Let's have a …," never completing either line.  Start a band?  Have a party?  No.  The song stops short of saying "Let's start a family / Let's have a baby / My travels are over."
This might well be equally credited to both Callahan (AKA Smog) and producer Jim O'Rourke.  The arrangements and production style will be immediately recognizable to anyone familiar with O'Rourke's pop-oriented work of the era.  Callahan's voice is great, like a velvet-lined box able to carry any sort of fragile thing in discrete luxury.  There is a much broader palette in use here than Smog's sparser predecessor album Red Apple Falls.
O'Rourke really builds up tension well, with Callahan's melodic and catchy riffs repeated again and again, with a slow crescendo or modulation that seems to take forever to resolve.  But the catchy riffs amuse in the meantime.  The harder rocking songs with the biggest, groovingest guitar riffs are some of the highlights.  Mostly they recall stuff like The Velvet Underground's "Foggy Notion."  A later example of Knock Knock's basic approach would be Bonnie "Prince" Billy's one-off rock album The Letting Go.
Just like a Leninist reading of the musical La La Land, if the story line of Knock Knock is about moving to someplace in the country for a relationship that falls apart, then the way the breakup is due to a commitment to something bigger than a relationship (that is a mere "bonus") is something kind of intriguing.