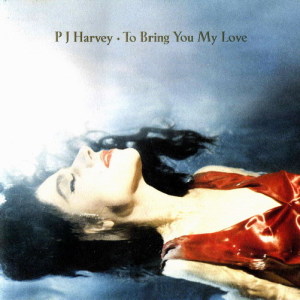 PJ Harvey – To Bring You My Love Island 314-524 085-2 (1995)
---
Music of the 1960s had this liberating aspect that promptly died out through the 1970s as the naïve dreams of the previous era withered and self-indulgent excess took over.  The punks came and went, but not everybody paid attention.  The vapid, albeit catchy, pop of the 1980s just coasted by.  Then by the 1990s, the stage had been set for "alternative rock" (whatever that means).  If the moment accomplished anything, it was to reawaken the simmering undercurrents that could be traced back to the 60s—a desire to tear down and cast off the old, and, maybe, reinvent it all—but cast with a deep cynicism and palpable sense of raw anger and frustration.  These things are all over early 90's alterna-rock, grunge, etc.
PJ Harvey landed in the middle of all this.  She was right there, in the perfect place and time.  Rid of Me was the right kind of rock for its day.  With To Bring You My Love, she transforms her style into something less directly "rock" oriented and more widely informed as rock/blues influenced pop music with a mature sensibility.  It certainly recalls Nick Cave and The Bad Seeds (1994's Let Love In being a particularly good reference point).
This music rumbles, roars and slinks.  It's confident.  It just sounds ferocious most of the time.  The opening salvo of "To Bring You My Love," "Meet Ze Monsta," and "Working for the Man" are tough to beat with any other album of the decade.
What is great about PJ Harvey was that she introduced this sort of feminist aspect to modern rock.  Her music could bang as hard as anything from the boys, and her lyrical subject matter didn't pull any punches.  The window for her to seize a major-label contract (and associated distribution) was disappointingly small.  She may have opened doors, but they were slammed shut right behind her.  A few years out, about all mainstream music had time for from women were bimbos singing dance song pap, and variations on that theme.  Yet all the proof anyone should need that it could be done properly is right here.