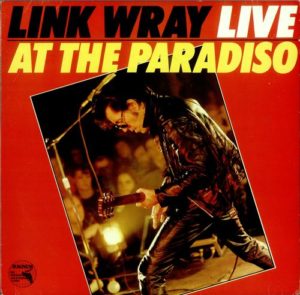 Link Wray – Live at The Paradiso VISA 7010 (1980)
---
Link Wray had an amazingly varied rock 'n roll career.  His early hit "Rumble" practically redefined rock guitar, introducing fuzz and distortion as desirable qualities.  But he found little momentum in the years immediately after that, pursuing more surf-styled garage rock (Jack the Ripper, the "Missing Links" series) while also flirting with more clean-cut teen idol pop/rock (White Lightning: Lost Cadence Sessions '58).  Then by the late 1960s he briefly considered hippie rock (Yesterday — Today), before delivering a cult classic of swamp rock, Link Wray, and continuing in a country-rock vein (Be What You Want To) in the early 1970s.  Then, along with a stint backing rockabilly crooner Robert Gordon, he transitioned to a slick hard rock sound in the mid/late 70s (Stuck in Gear).  His rather good Bullshot featured a mostly modern rock sound, with a versatile band.  That was followed by the concert recording, Live at the Paradiso.  If the rest of his career drifted into retro revivalism, it still seemed worthwhile in that he kept the flame alive and stuck to a path that was good-natured and earnest — and at times quite decent (Barbed Wire).  But maybe there was something more to the way he doggedly stuck with elements of rural elements in his music.
Point nine in the list of demands in The Communist Manifesto (1848) by Karl Marx and Friedrich Engels asked for:
"gradual abolition of all the distinction between town and country by a more equable distribution of the populace over the country."
In a related way, one can look at purely urban "rock" (not "rock 'n' roll") styles as being isolated from rural music.  Of course, there have been a few artists who have tried to bridge this gap.  Names like Ricky Nelson belong in that conversation.  But so does Link Wray.  (Much of the "country rock" and "insurgent country" genres — though certainly not all — actually doesn't belong, given that these are mostly examples of ways that bourgeois urban artists appropriated and co-opted rural musical techniques while undermining any actual rural perspective).
Live at the Paradiso follows through with the hard rock sheen of Bullshot, drawing on heavy metal and even maybe slicker punk rock.  There are plenty of Wray's old hits or quasi-hits here ("Rumble," "Rawhide"), plus some other early rock 'n' roll classics ("Shake, Rattle and Roll," "Blue Suede Shoes," "Be-Bop-a-Lula").  Even if nothing here reaches the heights of the single "It's All Over Now Baby Blue" from Bullshot, it's all pretty good from start to finish.  There is plenty of energy (not a given, considering that Wray had one lung removed long ago and was 50 years old when he cut this record). But what shines through is an attempt to bridge the realms of urban and rural music, without subordinating one to the other.  There is just something very likeable about this music, which doesn't impose itself but stands firmly in its own place.