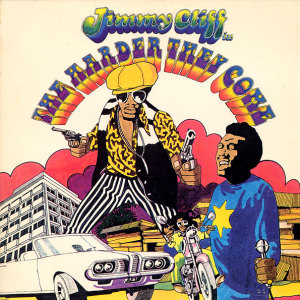 Various Artists – The Harder They Come Mango MLPS 9202 (1972)
---
The 1972 movie The Harder They Come starring Jimmy Cliff depicted the seedy realities and distorted dreams of impoverished Jamaicans. The soundtrack reflected some of the best music coming off the island at that time. Featuring some of reggae's finest artists of the day and more than a few classic songs, The Harder They Come is a classic reggae record.
Artists work through their problems in song. The Melodians run with the gospel harmonies of "Rivers of Babylon" followed by Jimmy Cliff's epic "Many Rivers to Cross." The miserable conditions portrayed in Desmond Dekker's "(007) Shanty Town" contemplate some of the disastrous effects of England's colonialism. Jimmy Cliff's "Sitting In Limbo" clings to the hope that things will change.
Getting permission for The Slickers to use the song "Johnny Too Bad," one writer was found underground and the other on death row. Probably the best metaphor for the movie and soundtrack, The Slickers portray the distorted dreams of the man in the street. Ultra-cool posturing of the rude bwoys (hired thugs in ganja trade) in the movie turns from a means to the ends themselves. The soundtrack further stresses the straight and narrow way. "You Can Get It If You Really Want," "Rivers of Babylon," and "Pressure Drop" look up from the depths to the bright light of day these people believe is out there.
"Pressure Drop" by Toots & the Maytals is a highlight among many highlights on the soundtrack. The slightly mysterious lyrics brace for a stormy change on its way. Toots Hibbert can sing with the best of 'em. His love for soul music, particularly his Otis Redding influence, provides soaring effects.
Songs blend into the storyline in the movie. Ivan, Jimmy Cliff's character in the movie, becomes somewhat of a recording star with his song "The Harder They Come." After a hip recording session, he visits a sound system (a traveling dance party) hosted by Prince Buster. This is a rare dramatization of the roots of hip-hop, where sound system deejays would toast (basically rap) over records.
The world still didn't know much about reggae when this record/movie came out (with the slight exception of Desmond Dekker's 1969 international hit "Israelites"). The high-energy ska of the 60s gave way to the simpler but more soulful reggae (by way of rocksteady or whatever you want to call the intermediate stuff). These grooves make conversion easy. The larger world was ready for reggae.
This soundtrack is worth checking out, as is the movie. It features ten classic reggae songs (plus alternate mixes of the two Jimmy Cliff songs). The many artists represented give a good cross-section of reggae styles. Though the songs are not very politically charged, they work for the movie. The unique flavor of Jamaica comes through these simple songs.