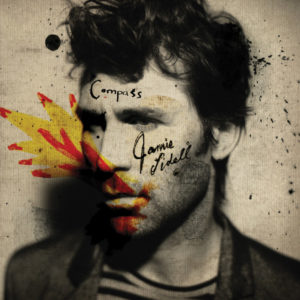 Jamie Lidell – Compass Warp warpCD192 (2010)
---
Compass is Jamie Lidell's best album to date.  It is also his most adventurous and simply weird one.  He's still doing the soul music thing (realized most fully on Jim).  He's also still mixing in electronics (which first garnered him attention with Multiply).  But what is different here is how he pulls those elements together.  There are snippets of melody, and catchy rhythms.  But those don't dominate.  Instead the music shifts unpredictably.  It kind of denies the easy satisfaction of sticking with any of those elements across an entire song.  Instead, he emphasizes dissonance, demanding adjustments, incongruity, and meanings that are only implied through the dynamic movement of the music.  Even free jazz horn riffs appear briefly.  There isn't really a clear term for this, but it is the same style used by artists from the Brazilian tropicalistas to Ariel Pink's Haunted Graffiti and Beck (a co-producer here).
"I Can Love Again" revels in the sort of stuff Prince would do on B-sides and obscure deep album cuts, wandering around a beat, with rambling musings heavily distorted with affected voice modulations.  "The Ring" is more of the same (almost fit for a latter-day version of The Black Album).  "Coma Chameleon" is not only a pun on the old Culture Club hit, it also has the sort of grinding low-end horn charts that fueled Radiohead's "The National Anthem."  "Enough's Enough" is one of the songs closest to straightforward soul, of the bright, disco-era variety. Hopefully this conveys a bit of the range exhibited by Compass.
Some of this is mediocre ("You Are Waking").  But for the most part this is more consistent from beginning to end that anything Lidell had done to this point.  As a number of soul music legends ventured into electronica around this time (Bobby Womack, Gil Scott-Heron), Lidell was leading the pack in terms of innovation.