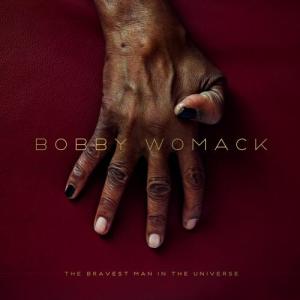 Bobby Womack – The Bravest Man in the Universe XL Recordings XLCD561 (2012)
---
What to make of Bobby Womack's comeback album The Bravest Man in the Universe?  It's really two albums in one.  There's the focus-grouped, calculated part, with guest spots from the likes of flash-in-the-pan indie bimbo Lana Del Rey and overbearing electronic beats by Damon Albarn–oh there's no chance whatsoever that you'll think Womack can't be set against "modern" electronics.  Then there's the other part, with compelling, funny, charming, mature ruminations on religion, life and relationships, presented matter-of-factly, and as intimately as any Womack recording of old.  These disparate albums meet at times, but also seem to inhabit separate worlds at others.
Parts of the album are best viewed in context.  The electronic soul of The Bravest Man in the Universe seems most directly inspired by Gil Scott-Heron's surprise indie hit of 2010 I'm New Here.  That's made clear on Heron's fittingly hilarious appearance on "Stupid Introlude."  But the specifics of the beats lie somewhere else, attired in calm orchestration and stately piano and bolstered by monotone newscaster-style spoken word bits, at times even coming across as reminiscent of the glitchy ambient electronics of David Sylvian from almost a decade ago.  When switching gears to more traditional gospel soul ("Deep River"), Womack reveals something akin to when Sly Stone seemed to drop the act and reveal the weary puppet-master on "Sylvester" from Ain't But the One Way.
This was a modest hit.  The problem is that the electronics are too superficial for the music.  They are like the new, corporatized Time Square: flashy but fundamentally incapable of soulful resonance.  Womack's voice powers through most of the time.  But, really, why should it have to?  Trimming a lot of that back, to just a few of the best of the dance-oriented cuts, and adding in a few more smoldering acoustic cuts that leave more space around Womack's voice might have made this a bit more lasting.  As it stands, this suffers from the same faddish production choices that held our man back in the 1980s (The Poet).   Womack really needs a Rick Rubin, or maybe to pay more attention to how Jamie Lidell's career has evolved.