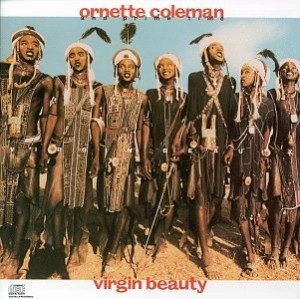 Ornette Coleman and Prime Time – Virgin Beauty Portrait RK 44301 (1988)
---
On September 18, 1987, Ornette, his son Denardo, and fellow musical pioneer Cecil Taylor attended a Grateful Dead concert at New York's Madison Square Garden at the invitation of the Dead's bassist Phil Lesh.  Seeing the audience's enthusiasm for a jam band's music inspired Coleman to record Virgin Beauty, which not only presented his band Prime Time in a more commercial-friendly setting but also featured the Dead's guitarist Jerry Garcia as a guest performer on three tracks.  Coleman would later perform live with the Dead at a 1993 concert too.
The sound of Virgin Beauty was kind of like Prime Time "lite", with airy, synthetic production values drawn from contemporary pop music.  Ornette was trying to reach out to a wider audience here.  Having Garcia present was, in a way, as much or more about cross-promotion as it was about Garcia's purely musical contributions. Those ploys worked.  This was Ornette's best-selling album to date.
And yet this differs from earlier Prime Time recordings in significant ways.  The harder funk and R&B (and disco) elements are long gone, though there is kind of a "world music" vibe.  On the whole, this exhibits less density and more dynamic range than earlier Prime Time recordings.  There also is more truly independent soloing from the band than with earlier incarnations of Prime Time.  Ornette always claimed that the band's format allowed each performer to do what he wants, though in practice that usually still meant the other (generally much younger) band members still took cues from Ornette and accommodated themselves to the way he played.  All that is much less apparent on Virgin Beauty, where there is a real independence evidence on many tracks.  Multiple performers simultaneously soloing wasn't new to Coleman's music of course.  Old jazz did this too — take for example Jelly Roll Morton and His Red Hot Peppers' "Jungle Blues" (1927).  But Ornette did free up that approach from adherence to strict harmonic chord changes.  With Prime Time, he also updated it for the "rock" era.  In some respects, the approach on Virgin Beauty represented a re-integration of a pre-Prime Time approach into the repeating riff format of early Prime Time performances.
My problem with the album is that only some tracks are really any good, and quite a few are rather mediocre and immediately forgettable.  I would like this much more if everything lived up to "Desert Players," "3 Wishes," and "Healing the Feeling."  The opener "3 Wishes" features Garcia on guitar, and the drums, processed with gated compression as was the (cliched) style for pop music at the time, use an effective quasi-blast beat riff — a similar drum riff is used on "Desert Players."  The guitar is pretty good throughout, though the production values are the biggest detraction for me, and it sometimes feels like too much work to filter out the good performances from the cheesy studio production effects.  Though, in its own way, the experiments with pop music production values on this album laid the groundwork for subsequent efforts like Matthew Shipp's New Orbit and Colin Stetson's New History Warfare, Volume 2: Judges.