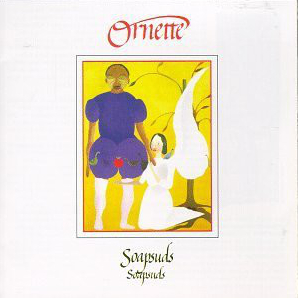 Ornette Coleman – Soapsuds Soapsuds Artists House AH 6 (1979)
---
Although bassist Charlie Haden had left Ornette's regular group, the two reunited for a series of duo recordings in the late 1970s.  A couple tracks appear on Haden's own Closeness and The Golden Number and the rest make up Ornette's Soapsuds Soapsuds (the Cherry/Haden/Higgins quartet also reunited for unreleased sessions in late 1976).  Here, Ornette records on tenor sax for the first time since Ornette on Tenor a decade and a half earlier.  The most striking aspect of this music is that it is completely different from that of his Prime Time band around this era.  Prime Time largely eliminated shifts in tempo, and minimized the use of melody to guide/facilitate harmonic choices.  To this listener, that makes Soapsuds superior, because it avoids the simplistic "new age" cyclical rigidity embedded in Prime Time's music and instead picks up where Ornette had left off with Science Fiction, his last small group album before the Prime Time years.  Haden was quite simply the best bassist Ornette ever performed with in terms of being able to develop his own independent harmonic and melodic cues that worked alongside Ornette's own playing without being beholden to what Ornette was doing — though bassist David Izenzon came close in his own way!
The album opens with "Mary Hartman, Mary Hartman," the theme song to a satirical daytime soap opera TV show.  Ornette plays with clear legato phrasing in a way strikingly similar to David Murray's playing on a rendition of "Over the Rainbow" with Sunny Murray & The Untouchable Factor from the same era released on Wildflowers 1.  It is a great performance, with clear melodic statements but also irreverent disregard for the sanctity of the melody or the original harmonics of the composition.  The intimate, romanticized tone paired with the ironic re-appropriation of elements of popular culture also fits well within the context of the "loft jazz" scene that was in full swing at the time, at least partly inspired by Ornette's Artists House loft endeavor on Prince Street in New York earlier in the decade (which built on earlier efforts in that direction by the likes of Yoko Ono).  Side two of the album is slightly less memorable.  The songwriting is solid but the performances are occasionally aimless and don't stick in your head as much.
This album was released on the Artists House label, which was started by Ornette's manager/attorney/producer John Snyder.  The label paid higher-than-normal royalties to artists, gave them complete artistic control, and manufactured albums using heavy card stock and virgin vinyl.  Basically, it was a label committed to artistic integrity rather than investor profits.  It was a relatively short-lived endeavor, and it's unusual policies have been at least partly responsible for the lack of reissues — as of this writing, the album is out of print.
I consider this album a solid effort, and a mildly unique album in kind of a low key, unassuming way.  Much of Ornette's music features busy tempos, while there is little or none of that here.  The duo format also lends a sparseness to the sound that presents a more extreme minimalism than other slightly minimalist trio recordings from the mid-1960s and 1990s.  I also welcome the fact that Ornette revives the musical theories that, in my opinion, he abandoned and betrayed with Prime Time, a band that fell prey to the "Tyranny of Structurelessness" much more than Ornette ever publicly admitted.  On the other hand, this album seems to travel familiar ground but doesn't quite rise to the level of Ornette and Haden's best work, though the track "Mary Hartman, Mary Hartman" certainly does.