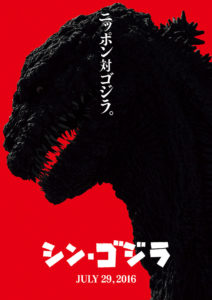 シン・ゴジラ [Shin Godzilla] (2016)
Toho Pictures
Directors: Hideaki Anno, Shinji Higuchi
Main Cast: Hiroki Hasegawa, Satomi Ishihara, Yutaka Takenouchi
---
A reboot of the Gojira/Godzilla franchise, this is really an excellent monster film.  The best parts are about political symbolism. Having watched a number of dumb big-budget Hollywood superhero films recently, I was troubled by how many relied on a frame of a "post-political" society, where all important political decisions are just handed out (down) by unseen technocrats. I thought it would be more interesting to show the deliberations of politicians. Well, Shin Godzilla does exactly that!
The Gojira/Godzilla franchise has shown many different sides of the monster, from an uncontrollable force of destruction, to a helper of humanity, to an object of scientific study. Aspects of this film draw upon some of the ways scientific inquiry was vaunted in the 1990s films. But there is a much more political and serious tone to this film.  Here, the monster is finally defeated by a mostly self-organized team of nerds that works together in parallel with the military to defeat the monster, following much destruction.
The political commentary in the film ranges from traditional franchise concerns about nuclear energy and weapons (Gojira/Godzilla in this film is a sea creature that self-mutates after eating nuclear waste, and is powered by nuclear fission), including the 2011 Fukushima Daiichi reactor meltdown, to post WWII pacifism (including Shinzō Abe's plan to re-write the Japanese constitution to step away from pacifism), the (real or perceived) subordinate relationship of Japan to U.S. political interests, corporatization and putting profits over people, and more. While the film is sometimes a bit ridiculous — often in a good, campy way, like the wonderfully unrealistic depiction of the monster with bulging eyes and a bulk that still resembles an actor in a rubber monster suit — mostly, this film is expertly delivered. Central to the story is the way it presents existing political institutions as being unable or unwilling to confront current circumstances.  The monster is a symbol of the internal contradictions of Japanese society (and capitalism). It would not be too much to say that this is one of the most Leninist films of its day!