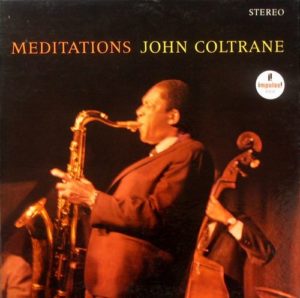 John Coltrane – Meditations Impulse! AS-9110 (1966)
---
Meditations features one of the unusual line-ups of Coltrane's post-Ascension recordings. Coltrane plays exclusively on the left channel with the talented Rashied Ali, a fiery and highly abstract drummer. The right channel features a young Pharoah Sanders blasting his aggressive and abrasive-but-warm saxophone, along with veteran Elvin Jones on drums. McCoy Tyner on piano and Jimmy Garrison on bass then bring balance to both channels.
John Coltrane had the most fully formed and beautiful tone of just about any saxophonist. His technical perfection was only surpassed by his unfathomable improvisational style. Coltrane could effortlessly assimilate any influence. More than simple imitation, Coltrane drew the very essences of these influences and developed them into new forms. Here, the abstract rhythms of Rashied Ali and the rough texture of Pharoah Sanders combine in this journey away from conventional structure. John Coltrane is generally the last word on anything he has attempted. Listening to him play reveals the all the joy and beauty of the universe. The limitless possibilities of a loving, peaceful existence unfold with the clarity of prophets. Here, he explores the most basic elements of humanity; however, he connects living elements to divine pursuit of Truths (yes, with a capital "T"), as explicated through his music.
"The Father and the Son and the Holy Ghost" sounds forced into unnecessary structure. The solos, particularly Coltrane's, at times seem to lose sight of their original goals, and yet, the passion and faith never waiver. Coltrane had a gift for shrewd commentary. A serious and deeply spiritual person, he could reaffirm his faith while simultaneously criticizing the church (he believed in all religions).
"Love" begins the last three movements. The dissonance of Coltrane's melodic line resolves to a three-note consonant line. Jimmy Garrison begins the song with a moving solo. Coltrane broke jazz conventions as he dove completely into free jazz. The first two songs are continuous performances, as are the last three. Songs begin with solos, only revealing a defined statement much later. On "Consequences," the two saxophonists blur the beginnings and ends of their solos beyond identification.
Traditionalists generally jump ship after A Love Supreme (more precisely, before Ascension) and ignore all late-period Coltrane. Yet, the most rewarding material comes from his final years. Meditations features John Coltrane at his most intense (at his most passionate, Coltrane is not casual listening). It is a foolish thing indeed to attempt to explain what Coltrane achieved with this album.