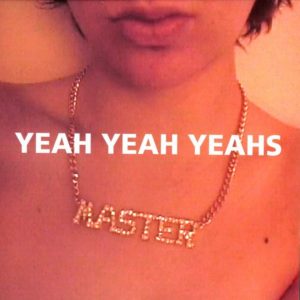 Yeah Yeah Yeahs – Yeah Yeah Yeahs Shifty SH05 (2001)
---
[written back in 2001]
Against the weight of circumstance bearing on rock 'n' roll there are the Yeah Yeah Yeahs (YYY). They make art punk funk noise. Precisely what these post-no-wave New Yorkers actually have stumbled onto is a mystery of epic proportions. Here is a band willing to cop an attitude.
A holy racket that can level a city like a monster movie, Yeah Yeah Yeahs is "only" a five-song EP. Some garage-quality production values are not a major obstacle (Jerry Teel at Funhouse studios does a good job with probably few tools). EP's are vehicles and this is quite a ride. This is just the beginning but the YYYs are way out in front of just a casual pace. They are already running.
The trio packs a multitude of delights. They are part rogues, artists, sexaholics and comedians. Karen O rock stars usually come in dreams. Does she embody pleasure or pain, or is she a prankster bent on destroying the distinction? Her sexy snarl is enough to leave a boy or girl confused and hoping for yet more confusion. Nick Zinner on guitar tears through his icy riffs. He can groove in deeper rhythms or attack with slashing solos (and take some nice photographs). Zinner is a major force. Brian Chase adds a deft touch on skins though lo-fi recordings never do drums justice.
The savvy lyrics have a medical efficiency. "Bang" is a pure sex song. "Mystery Girl" flaunts the unknown pleasures of all that lies ahead (with the appropriate lyric "take a deep breathe, babe/ 'cause we just started"). "Our Time" is their contemporary anthem of disillusionment, chanting, "it's our time/ to be hated" (patently destroying the essence of Tommy James & The Shondells' "Crimson & Clover"). Sometimes they are thinking while sometimes they just feel. Apparently inhibitions are needed urgently elsewhere.
The YYYs play groovy noise rock but with sketchy reference points. Comparisons hardly work (Boss Hog/JSBX? The Cramps? Gang of Four? Swans?). The YYYs stand on their own though. Yeah Yeah Yeahs is loud and subtle. It can move you or intrigue you. In other words, it can hit you in the gut or in the head. Yeah Yeah Yeahs' empowerment lies in your choosing its target.
This EP is like the ground-floor entrance to the next big thing. Yeah Yeah Yeahs blasts you with the indifference of a finely tuned death trip. Critics have picked up the YYY's scent. Either everyone else takes the hint now or thirty years later the YYYs will reunite for their first tour with seating for 30,000.