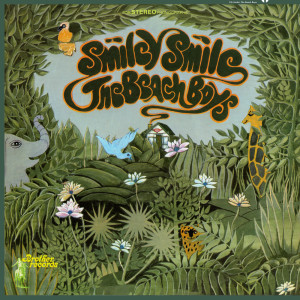 The Beach Boys – Smiley Smile Brother Records ST 9001 (1967)
---
This was the album that wasn't SMiLE. After Pet Sounds, Brian Wilson set out to create the greatest album ever. His comic masterpiece was to be SMiLE. For an enormous list of reasons, that project was scrapped before it could be finished. Brian Wilson ended SMiLE (resurrecting it in 2011 with The SMiLE Sessions). But not before a select few had heard some outtakes and confirmed the project's great promise.
The actual follow-up to Pet Sounds was Smiley Smile. Some of the material intended for SMiLE made its way to Smiley Smile by way of new recordings. Where SMiLE was to find humor in all existence, Smiley Smile made a concerted effort to under-produce the material from SMiLE to make it bleak and impenetrable. The constant tension makes it is obvious how the songs consciously departed from their origins.
This was the Beach Boys at their most experimental. Every song risks being unpopular. "Fall Breaks and Back to Winter (W. Woodpecker Symphony)" is quite amazing as a composition though, despite its references to a cartoon, it certainly would scare most small children. "Heroes and Villains" comes pieced together out of a number of disparate ideas (it was to be the centerpiece of SMiLE at 11 minutes or so). It still is one of the disc's great achievements in recalling a failure to break the ties of good and evil.
"Good Vibrations" appears intact. It was previously released as a single, and simply found its way onto the next album. It is a classic. Physical vibrations (or drugs) give rise to sensation in the mind. The song addresses with unparalleled detail both the physical and mental as distinct but inseparable elements.
Paul McCartney even provides one of the most bizarre cameos you'll ever encounter. "Vegetables" features a percussion track of McCartney and Brian Wilson chomping on celery. The song begins as a sparse, almost entirely vocal, track, then builds into a layered production that ends before it goes far. And don't miss "Wonderful"!
Smiley Smile is both a triumphant vision and that vision's own demise. Brian Wilson seemed a bit of a madman making it. It is the paradox at the heart of his efforts that make this so important. In a perverse way, people should thank Brian Wilson for destroying SMiLE. In destroying those recordings he established a continuing desire for everyone else to try themselves.
[For no reason, I'm providing an explanation of this review. I tried to make an obvious, but unstated, link between Brian Wilson and Antonin Artaud. The two were very similar, and this album in particular shows how Brian Wilson operated in the same way as Artaud. I did not mention all the songs on the album, initially to save space.  But "She's Goin' Bald" is a daring use of cut-and-paste styles. I like it. The Beach Boys were mature artists who could now see their childhood behind them. Plus the Phil Spector wall of sound approach is largely gone, replaced with Brian Wilson's own distinctive artistic approach that is much more benevolent. "Little Pad" is a very important song to understanding Smiley Smile, but I did not want to give everything away. But if you analogize Hawaii to paradise, then the situation is illuminated. "With Me Tonight" is as uncompromising a love song as you may ever hear.  "Gettin' Hungry" makes me think of Stockhausen, but I don't know why.]