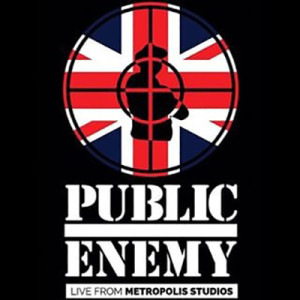 Public Enemy – Live From Metropolis Studios Universal 00602547228819 (2015)
---
If Public Enemy seemed to shun major labels in their later years, then Live From Metropolis Studios is an about-face.  Still, it's a pretty strong album, recorded live in a studio before an audience of about 125, and is helped by a "greatest hits live" format (like, ahem, Fight the Power! Greatest Hits Live!; there is nothing from their recent studio album Man Plans God Laughs) and hi-fidelity made possible by the "studio" setting.  If live hip-hop usually only makes sense in person, with the energy of the interaction between the performers and the crowd fueling the experience, then live hip-hop recordings are often simply weak approximations of studio counterparts.  Of course, DJ scratching can take on a bigger, or at least different, role in a live setting.  But the real promise of recordings of live hip-hop is the use of a live backing band.  With Public Enemy, that means The baNNed, featuring Khari Wynn on guitar, Davy DMX on bass, and T-Bone Motta on drums.  Those guys lend some pretty tough punk/metal shadings to renditions of classics like "Black Steel in the Hour [of Chaos]" (which is performed sort of as a medley with snippets of songs like "MKLVFKWR" and "Do You Wanna Go Our Way???" worked in), "Shut Em Down" and "Harder Than You Think."
Recorded in London in 2014, only part of the PE group is present.  Professor Griff is absent, and only Pop Diesel and James Bomb from S1Ws made the trip.  Although Terminator X reappeared on Man Plans God Laughs (his first recordings with the group in over 15 years), only DJ Lord appears here.
London is a special place for PE.  In the late 1980s they toured there, before they really broke to wide audiences, and snippets from London concerts were prominently featured on their classic It Takes a Nation of Millions to Hold Us Back.
This album is a nice opportunity for old PW fans to catch up with the band, and hear a select few of their newer tunes of the last decade or so that they may have missed, and maybe there's an off chance that younger listeners might tune in to one of hip-hop's greatest acts for the first time.