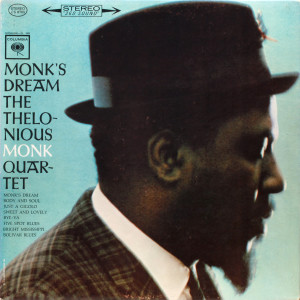 Thelonious Monk Quartet – Monk's Dream Columbia CS-8765 (1963)
---
Monk was always something of a delightful mess of contradictions.  His works were always too odd to fit neatly within the bop school, or any other, yet he always looked back toward an idiosyncratic version of traditionalism, sticking with the same basic style for his whole career and never chasing fads.  His seemingly willfully unorthodox (some would say poor) technique was belied in that he chose to play that way, known to rehearse in a more conventional manner.
On Columbia Records, Monk established a pattern of mostly re-recording old favorites and tossing in a select few new compositions.  From one perspective, that's a disappointment.  On a re-recording, Monk was never going to match the magnificent, startling, timeless splendor of his early Blue Note recordings, or even the often crudely performed and recorded but no-less-charmingly-weird-for-it efforts of his brief Prestige tenure.  But, let's take this from another point of view.  If you could write a song like "Monk's Dream" or "Bye-Ya," shit, wouldn't YOU play it (and record it) all the time?  Monk knew what he had on his hands.  And he made good use of it.  He also adapted perfectly to his growing commercial success pretty comfortably.  He may have mellowed a bit, but he never gave up on his offbeat innovations and mannerisms.
Charlie Rouse was the most effective saxophonist who ever played with Monk.  His woody, slightly gritty tone sat well alongside Monk's percussive piano playing, particularly in the 1960s when Monk had buffed his music down to something well-worn but still with a glint of sparkle.  Rouse is pretty energetic here, somewhat in contrast to Monk, and is ready to jump out with a solo just as twisted as any of Monk's melodies.  Having Rouse on his game, with the rhythm section rising to the occasion, and thanks to the kind of wonderful production values the switch to Columbia provided, this is a thoroughly pleasant and engaging set.  If this strikes your fancy, check out Live at the It Club: Complete.