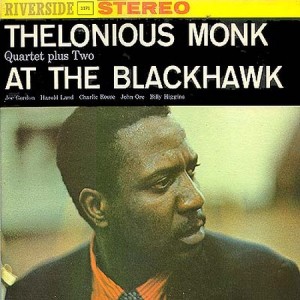 Thelonious Monk Quartet Plus Two – At the Blackhawk Riverside RLP 1171 (1960)
---
Possibly Monk's second best live recording, after Live at the It Club: Complete (though Thelonious in Action might be another contender).  Monk went way out west to record with Shelly Manne, but when that meeting didn't work out, Monk's regular quartet recorded this live date instead with two guests.  The results speak for themselves, with solid playing from the quartet and just enough variety added by the new players to make this something other than yet another set of readings of familiar Monk tunes.
Billy Higgins (d) was no slouch when it came to the avant-garde, but his playing was always rooted in bop.  In short, that made him a player a lot like Monk.  John Ore (b) was a dependable member of the quartet.  He doesn't ever capture the spot light.  But he also never screws the pooch either.  Then there is Charlie Rouse (ts).  Monk and Rouse went together like peas and carrots, milk and cookies, bread and butter…hell, name your analogy.  Rouse brought an energy and an almost telepathic understanding of Monk's songwriting and playing so that he's usually the group's biggest asset, and this disc is no exception.
The guests, Joe Gordon (t) and Harold Land (ts), play things particularly straight.  Gordon sticks to pretty standard hard bop stylings.  That's perfectly fine.  Monk rarely included trumpet in his recordings as a leader, so having one present is unusual enough in itself.  Land comes across as something of a lesser version of Coltrane (much lesser actually), who had been in Monk's working group a few years previous.  The contrast between Land and Rouse is quite stark, and makes for a funny indicator of how Rouse just "got" Monk's music better than anyone else.
Likely because of the two guests, who had only minimal prep time to integrate themselves with the quartet, Monk and Rouse really step up in their playing to carry the day.  The guests add some new flavors, but fortunately they take secondary roles and are content to just pop in for occasional solos.  So, you still get to hear the great Monk/Rouse team in action.  The sound on this may disappoint some — patrons of the Blackhawk club can distinctly be heard talking away during the recording (at least on the CD reissue with some bonus tracks).  But forget that.  This is a pretty good Monk recording, well worth the time.