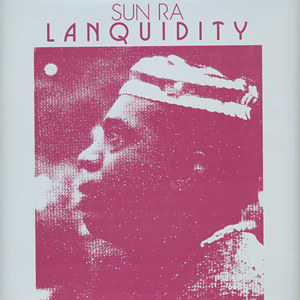 Sun Ra – Lanquidity Philly Jazz PJ666 (1978)
---
Disco has never found such fine improvisational treatment as on Lanquidity. Sun Ra was one of the most interesting musical figures of the last century. He claimed to be from Saturn, and it is practically impossible to prove otherwise. The myth he developed enhanced the music by giving the whole experience a charm all its own. Always one to challenge conventional wisdom, Sun Ra expanded what you could do with "serious" music.
Why a disco-jazz album? Generally, people don't expect a jazz pioneer to take up doo-wop, R&B, or disco, not to mention both free jazz and big-band jazz. But Sun Ra did, and there is no better way to obliterate worthless preconceptions. In the liner notes to a CD reissue executive producer Tom Buchler quotes Sun Ra saying, "'People are sleeping, and I'm here to wake them up from their slumber.'" While bold statements of space-age philosophy are a natural part of Sun Ra's myth, there is a literal meaning as well. Occasionally known as "Le Sony'r Ra" or Herman "Sonny" Blount, he was a master of using sound to alter moods — like waking someone in the audience from a drunken stupor, a true story.
Lanquidity has more passion and feeling than seems possible. Sun Ra has absorbed the language of Donna Summer into his improvisational vocabulary. His Arkestra — hailing from Philadelphia somewhat late in Sun Ra's career — is particularly strong with John Gilmore, Marshall Allen, June Tyson, but also Eddie Gale, and people identified as Disco Kid and Artaukatune. The group's performance is inspired. The singular vision of the album seldom, if ever, falters. When dealing with talented musicians, restraining them to simple material is challenging, just as working intuitive players of limited means into an ensemble is a challenge. Sun Ra pulls off a unified sound without restricting the creative energy of the collective.
Though sometimes strained, Lanquidity is as effective as nearly anything in Sun Ra's extensive catalog. At the same time, the songs are very comforting. Song like "There Are Other Worlds (They Have Not Told You of)" and "Twin Stars of Thence" live up to their cosmic names. The music follows a more conventional structure than albums like Atlantis and The Magic City. This never limits the album. The title track explores every creative possibility without over-complicating the matter. "Where Pathways Meet" finds Sun Ra providing varied responses to the main theme and solos, cleverly remaining in the background for most of the song.
This album's appeal ranges from avant-garde jazz fans to Studio 54 revivalists. While traditional disco fans might find Lanquidity a bit strange at first, it might grow on them. Keep in mind that many original Sun Ra albums had hand-painted covers. The original release of Lanquidity first appeared with only a photocopy attached to the front. Finding these albums was difficult, except for those who frequented Arkestra concerts. Hopefully every Sun Ra release can eventually find a re-release.