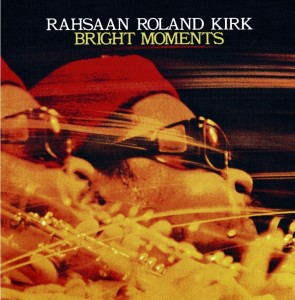 Rahsaan Roland Kirk – Bright Moments Atlantic SD 2-907 (1974)
---
Rahsaan makes goofing off a profound experience. If only people spent more time doing just that, maybe there would be more bright moments and less fabricated problems in this world. Such is the shoot-from-the-hip philosophy Rahsaan promotes.
His style was a little Afro-centric, but that sells him short. Rahsaan made humane music. Everyone is involved. Here, there is plenty of opportunity for the audience to holler, testify, and clap along with every song and interlude. It isn't just Rahsaan who makes Bright Moments what it is. Unlike his studio masterpieces Rip, Rig & Panic and The Inflated Tear, Kirk's band here is not made of big-name superstars. It doesn't take a band from the short list of jazz masters to make a great album.
Bright Moments is a fantastic example of the power of live recordings. Great live albums should make it a trivial fact that you aren't actually at the concert as you listen. It is vaudevillian, and makes the effort to craft the performance into one tailored just for the audience. With the right set of ears it's obvious Rahsaan is spinning his craft just for you.
Rahsaan certainly brought his bag of tricks at this date. He played three saxophones at once. He played a flute with his nose. These aren't gimmicks. Kirk was talented enough to make sounds these unusual ways, but also to do a little more. "Fly Town Nose Blues" has him playing the flute with his nose with vibrato! When he plays multiple saxophones, there are certain logistical difficulties — three instruments and two hands. Kirk could deftly make the drone an integral part of some complex solos.
Few people could accuse their audience of not knowing everything about John Coltrane "and the beautiful ballad he wrote called 'After the Rain'" and turn the accusation into a peace offering. Rahsaan was the people's sax man. That isn't any big secret, because in so many words he certainly lets you know.
Yeah, it takes a little something to blow such ragged solos. Rahsaan let all the breathy, clipped, muffled noise coming from his saxophones have their moments in the lights, hanging there as invisible sound sculptures.
At some point the criticism that jazz became academic gained supporters. It's not that Rahsaan went out of his way to dispel that myth, but he did dispel it. Rahsaan Roland Kirk is like good whiskey. There are supporters, but the rest — even those finding it hard to swallow — can be easy converts.