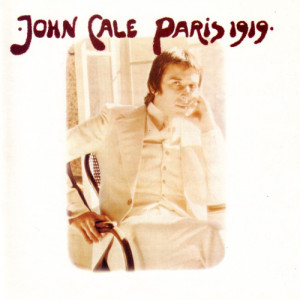 John Cale – Paris 1919 Reprise K 44239 (1973)
---
Few albums defy categorization like Paris 1919. Though not popular at its original release, it is an album extensively referenced by critics and is a captivating work appreciated best upon extended reflection.
Is it pop? Is it classical? Is it experimental rock? Maybe it is country or blues? Don't they call this guy a "godfather of punk"? Categorizing John Cale is as productive and interesting as staring upward and counting holes in ceiling tiles. He made his own way. Few have attempted such sweeping musical portraits of home and history that shape a life.
Paris 1919 is a personal album for Cale. It reflects himself, rather than the racy crowd he ran with. Cale focuses on fond memories. He envisions a future built on the distilled successes of his past or at least the most profound questions that passed his way. This makes the album more endearing than the equally brilliant Fear. Paris 1919 takes the sophisticated pop of his solo debut, Vintage Violence, to a higher level by replacing naïve (in a good way) exuberance with calm confidence. Exposing anything personal makes an artist vulnerable, but truly great art requires some kind of revelation. Even metaphysical statements must usually come with a personal attachment. Cale achieves this in every respect.
Cale could expertly handle the sometimes-tedious task of composing new works. The results can be deceptive. A casual listen may suggest this is a straightforward album. Closer inspection reveals his placement of pulsing vamps, sharp dissonances, and sonic swells. These techniques are merely a means to realize his vision, as the lighthearted joys of the material always supplant technical considerations. The album is not an assemblage of independent components. Instead, Paris 1919 works as a unified whole always trained on the basic principles Cale held most dear.
Though not particularly known for his lyrics, Paris 1919 holds some of his best. He even includes reference to fellow Welshman Dylan Thomas. Cale's greatest success is in making music uniquely his own. This isn't a performance-heavy album for him. Most of his efforts lie in guiding his vision. Against Cale's Welsh lilt the studio band sparkles, featuring Little Feat members Lowell George and Richard Hayward.
Despite difficulty in comparison, Paris 1919 is a unique artistic triumph. A work like this rarely fits into the preconceived notions of pop culture since it goes beyond what once seemed to be the outer limits. Paris 1919 is uplifting and intimate without heavy-handed sentimentality.