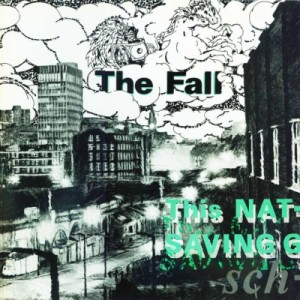 The Fall – This Nat-ion's Saving Grace Beggar's Banquet BEGA 67 (1985)
---
Hex Enduction Hour may always be The Fall's crowning achievement, but This Nation's Saving Grace is certainly another great piece of work. Irreverent and intellectual, The Fall symbolize the golden age of underground rock 'n' roll in the 1980s. For better or worse, many alternative rock bands duplicated this sound time and again over the next decade.
Mark E. Smith was the bearer of sophrosyne in the vanguard of rock. He deployed it with his knack for mockery. This Nation's Saving Grace has a racket of guitars with some lyrical twang, but also a strong sense of timing and texture. The Fall clearly had arrived at a different sound than their early period. M.E.S.'s then-wife Brix has her pop melodies keeping the album accessible by The Fall's standards at least.
The very idea of The Fall selling out is laughable. This is no generic pop record. This Nation's Saving Grace is syncopated social discord–no respect for tradition here. It still manages to be catchy. "Spoilt Victorian Child" is enough to convert the heathens as it discredits their ways. The long-term dangers of hiding behind wealth seem easily avoidable. "Gut of the Quantifier" also takes aim at class economics with M.E.S.'s nonacademic wit.
The CAN-influenced numbers like "Paintwork," "My New House," the nearly instrumental "L.A." and of course "I Am Damo Suzuki" show the profound aspects of change during the Brix period.   This band sounded completely different from the one that recorded Hex Enduction Hour. M.E.S. wasn't guiding the band's every motion anymore.
Much was rumbling here. The intense new rhythms hardly relied on the drums at all. The bass throbs and the guitars slash across all sides of the beat to establish unique (generally) non-African-based polyrhythms. The Fall as a whole band, apart from just M.E.S., never sounded as good. The cassette release had four songs in addition to those on the LP version, and the CD re-release added two more.   One of the best songs, "Cruiser's Creek," showed up only on CD.
"Paintwork" is the point of departure for bohemian indie rock in the Eighties. M.E.S. drifts past the warm personal eccentricities of The Beach Boys' "Busy Doin' Nothin'" and "Whistle In" as the recording is interrupted (CAN-style) with overdubs of random environmental noise. He still avoids the complacency the anti-establishment sometimes falls into.
Far more consistent than its predecessor The Wonderful and Frightening World of. . . , This Nation's Saving Grace has The Fall challenging their routine. So if you haven't heard The Fall yet you might start here, now.