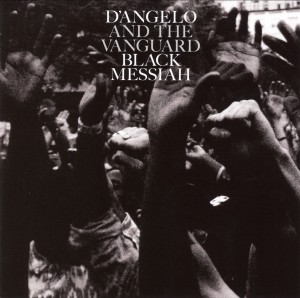 D'Angelo and The Vanguard – Black Messiah RCA 88875-05655-2 (2014)
---
D'Angelo's long-awaited follow-up to Voodoo, one of the finest albums to be found anywhere in the period around the turn of the century, turns out to be well worth the wait.  His direct yet obscure falsetto voice is still intact.  Black Messiah is both a highly original work that advances a new soul milieu
There is a strong classic Prince vibe on a lot of the album ("Back to the Future (Part I)," "1000 Deaths," "The Charade," "Ain't That Easy") — a light, funky, guitar-driven sound that is smooth and unsettling at the same time with precocious vocals that mask real determination.  Prince wasn't involved, but he was rumored to have been working with D'Angelo years earlier on recording sessions that either never materialized or indirectly morphed into Black Messiah over an extended period of time.  The sheer density and layered structure of the recordings, the product of a lot of tinkering, also recalls Sly & The Family Stone's There's a Riot Goin' On.  But aside from similarities and influences, D'Angelo's music still has a voice of its own.  There is a lot of room for slower stuff.  There is time for reflection.  The atmosphere the sounds fit best is a comfortable, dimly lit room filled with friends and acquaintances, telling stories and having conversations that stretch out into the night about whatever topics strike them, sometimes with determined passion, sometimes with relaxed good humor, holding witness together and getting lost outside time.
The opener "Ain't That Easy" has a guitar playing accented upbeats, like Jamaican ska, and a diffuse fabric of sound from which melody seems to emerge as a lingering byproduct.  The song, like many on Black Messiah, seems to deny a star turn to D'Angelo or any other performer.  There aren't solos.  There isn't any focal point.  In the liner notes, D'Angelo explains his motivation for naming the album Black Messiah, and his explanation is surprising.  It fits the structure of "Ain't That Easy."  He says,
"It's about people rising up in Ferguson and in Egypt and in Occupy Wall Street and in every place where a community has had enough and decides to make change happen.  It's not about praising one charismatic leader but celebrating thousands of them. *** Black Messiah is not one man.  It's a feeling that, collectively, we are all that leader."
These sentiments showed up again during D'Angelo's appearance as a musical guest on a popular late night comedy TV following the release of the album.  Members of his band wore "Black Lives Matter" and "I Can't Breathe" t-shirts, while D'Angelo appeared wearing a "hoodie" sweatshirt (and playing a rhinestone-encrusted guitar).  He may have played some of the least compelling individual songs from Black Messiah but he made the politics explicit — more explicit than on the album.
On "Prayer," there is an anthemic guitar riff.  It is one of the catchiest hooks on the entire album.  But D'Angelo doesn't just give the listener that riff.  It is paired with an ominous glockenspiel that echos and reverberates across the guitar riff, less pronounced than the guitar, but relentlessly present.  It is a counterweight to whatever sense of forward propulsion that guitar riff suggests, the same way Newtonian physics says that every action has an equal and opposite reaction.  The glockenspiel has a church-y tone, a reference to religion just as the title is "Prayer."  This is the sort of thing that separates this music from so much others.  It is not wholly unique (take for instance "Herod 2014" from Scott Walker + Sunn O)))'s Soused).  Still, it's a daring move.  Unlike the hit "Untitled (How Does It Feel)" from his last album Voodoo, with its consonant movement along a common melody, there is always so much happening simultaneously on the songs of Black Messiah that the very idea of a listener being able to devote attention to a singular aspect of the music is rendered problematic.
Black Messiah is mature sounding soul music.  Many soul "love" songs are so crass as to make one wince.  D'Angelo is ready to talk politics, religion, and yes, love, taking a chance to broach subjects that risk being impolite.  This may not quite be a match for Voodoo, but little is, and this one is still well worth plenty of listens.