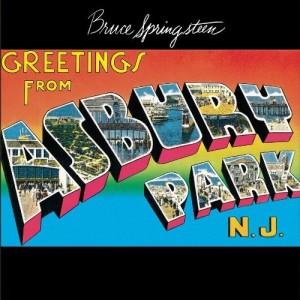 Bruce Springsteen – Greetings From Asbury Park, N.J. Columbia KC 31903 (1973)
---
Bruce Springsteen's debut delivers brilliant folky rock storytelling. At this point, he was concerned with more than just rock anthems. His purpose was something humanistic. Springsteen had that in common with Van Morrison. This album tells of hope for human perseverance. Triumph over adversity is the common thread through all the songs.
Here he is believable. The songs matter, and they matter to more than just their characters. Springsteen was confident to make the everyday an event. It was kind of a pride thing. The sound is a little sparse. Sometimes Springsteen isn't quite sure of what lies ahead. He leaves just enough rough edges to give Greetings a homespun charm.
Greetings from Asbury Park N.J. did not make Springsteen a star. He was still just a kid from Jersey. The album is humble and endearing in a way that none of his later albums were.